Are you interested in knowing how long is high school basketball season? If you are a student-athlete or a student-athlete parent, this is a fundamental question to get answered. Many things need to get done in preparation for the high school basketball season for everyone involved, and it is crucial to know the length and start and end dates of the basketball season so that you can prepare accordingly. 
We understand all of this, and we would like you to get all the necessary information to organize your family for the upcoming season properly. In our article today, we will be reviewing all information needed for the high school basketball season, such as the start time, duration, and stages of the season. 
How to Prepare for the High School Basketball Season
Hit the gym basketball at any level can be a very physically demanding sport, so players that are stronger and faster usually excel the most. When we say hit the gym, we don't mean that teenagers should try to get as big as The Rock.
What we're saying is try to get in the gym at least three times a week if you are serious about being a basketball player. Spending time in the gym will help to increase your strength and ability to compete in a physical way with your opponents.

Hit the tracks
Try to jog and run as much as you can in the offseason to improve your cardio. Doing cardio activities will help you to not get tired on the court because your conditioning will be good. You can run with your friends or teammates or even by yourself during the offseason. You can run on the tracks in your community or school or even on your neighborhood streets.

Talk to your coach
Try to speak to your coaches so that you can understand what type of players and they are looking for the next season. Talking to your coaches will help you understand the player they want you to be, and then you will know what to work on. This will help you get more playing time to showcase your talent for potential scouts.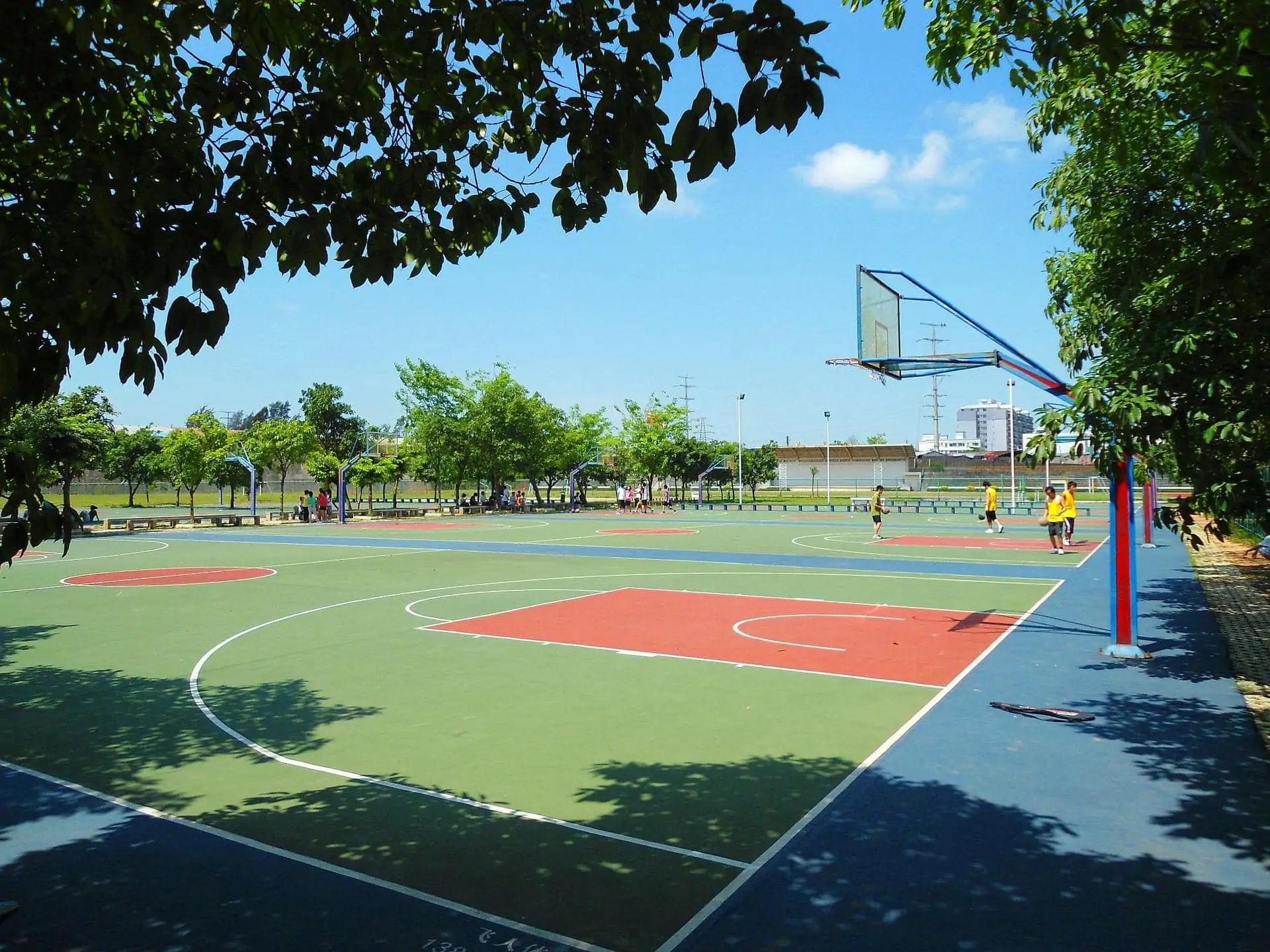 Hit the court
Try to do practice in the offseason with your friends or teammates, if possible. The more you practice with your teammates, the more chemistry you will develop, which will also help raise your talent level.
Try to work on fundamental drills as well so that you can be an all-round asset to your team when the season begins. In addition to practicing on the court with your friends and the teammates, try to join any regional tournaments available in your area to get a feel of the competition and get a competitive edge for the upcoming season.

Watch films
Watching game films will not only help you to learn new moves, but it will also improve the ones that you already have. Watching films allow you to understand plays better and also see the game from a coach's perspective. These are positive things that can make you a better contributor to your team when the new season starts. 
What Season is Basketball Played In?
This is a tricky question to answer. Basketball is considered to be a winter sport, however, the length of the season the last well beyond the winter if your team progresses far in competitions. The season starts in the winter around November and will last well into March in some states and April in others. 
Basketball seasons are scheduled around different things at different schools. Some schools schedule basketball around the other academic requirements of their student-athletes and in other states, schools will schedule the basketball season around spring sports or a combination of other sports and the students' academic responsibilities. 
Even though basketball is considered a winter sport, some leagues occur outside of school that students can participate in, and these leagues start before the winter. These leagues are good to help build a player's game so that when they start playing in the high school competition, they would have progressed further than their opponents. 
Some leagues go on after the official High School tournament ends, and these are also good leagues for students to participate in, given that they had sufficient rest after the high school league. Parents should pay close attention to the times that these leagues are happening and monitor their children's participation so that they don't overexert their bodies in too many competitions. 
How Does High School Basketball Season Work?
For the high school basketball season, teams usually compete in the district tournaments to advance to Regional tournaments and then onto state tournaments. Throughout the course of the season, teams usually practice four to five times a week for around two hours a day. Coaches focus on different drills geared towards improving coordination, offense, defense, footwork, and so on. 
Teams usually hold film sessions before practices one to two times each week, and those may last up to 20 minutes, sometimes more. Some coaches will also do strength training exercises one to two times per week with the team. Teams usually play two games each week, depending on their states and where they are in the tournament. 
When Does High School Basketball Season Start?
For the high school basketball season, in most states, the high school basketball season starts in November. To get the exact basketball season dates, check with your team officials. Even though the high school basketball season begins in November, some teams may play games before this. These games are usually practice games, or even squad matches to help a team get ready for the upcoming season.  
If you are a parent, you should know that even though the official season starts in November, your child should be preparing for the season way before this. Try to get your child into the gym and on the track if they are serious about playing basketball. 
Ensure that your child is also eating and resting properly to get their body right for the season. Nutrition is vital. Players who try to prepare themselves for the season before it starts are usually ahead of the competition when the season starts.
How to Make it Through the Season
Basketball is a sport that requires a lot of commitment. If you want to make it through a successful season, there are some things that you need to make sure that you are doing. Let's take a look at some of the things that players needed to ensure that they are doing correctly in order to have successful seasons.
Time Table
Create a timetable so that you are entirely organized throughout the season. If you are a parent, try to ensure that you have your child's practices and games on a timetable so that you can form a structure that supports school work and any other extracurricular activities.
Creating a timetable will allow you as a student-athlete to have enough time to study, rest, and do other things in an organized way outside of the hectic basketball season.

Rest 
Proper and sufficient rest is critical for any athlete. Basketball is a very demanding sport both physically and mentally, so your body will need to rest adequately before and after games, practices, and workouts.
If you do not rest your muscles, they get more susceptible to be damaged and will not recover sufficiently after games, exercises, and practices. Make sure that you get as much sleep as you can so that you can have a clear mind, game day. Resting is also essential because you are a student-athlete, and you need enough rest to focus on your studies.
Nutrition

Nutrition is another extremely important aspect of an athlete's life. If your body cannot obtain all the nutrients it needs to rebuild and grow, you can hurt yourself. If your school has a diet plan for athletes, ensure that you get all the information you need and stick to the diet plan available.
If there are no diet plans available at your school, speak with your parents so that they can get you the necessary help to maintain the proper nutrition required for you to play basketball effectively.
Don't miss practice
This should go without saying, but unfortunately, a lot of athletes tend to ignore this. The more you practice, the more you improve. What you practice is what you will be able to do in games. If you want to be a serious basketball player, your practice sessions should be just as important as games.
Take your practice sessions seriously so you can learn as much as you can so that your game can improve. Do not miss practices unless it's unavoidable. Players who missed practice sessions could see their playing time getting reduced as well.
How Many Games are in a High School Basketball Season?
High school basketball seasons may have different amounts of games, depending on a few things. This would depend on the number of schools in your region, the format of the tournament being played, and the team's progression throughout the tournament. 
A high school basketball season can have anywhere from 20 to 35 games, depending on all of these factors. Coaches should prepare their players for the long seasons if their teams are capable of making it all the way through the tournaments. 
It is also good to work on your depth charts so that your players aren't worn out before the tournament is through. It is essential for parents also to know the number of games a team is expected to play or at least a ballpark figure so that they can schedule and prepare for their children's other activities in accordance with these games. 
As a high school basketball player, you should make sure that you are ready for whenever the coach throughout the season calls your number. Work on your conditioning so that you are not out of commission before the season ends.
How Does High School Basketball Playoffs Work?
Unfortunately, there aren't any exciting playoff series between the top schools in the country to determine the high school basketball national champion. There are different state championships contested by the best schools in each state to determine the state's champion. 
The playoffs for high schools differ slightly from state to state and class to class, but for the most part, there are usually four rounds of gameplay, which lead to the final 4 semi-finals, and the winners of these two semi-finals will play in the state championships. All of these games are single game series knockouts.
Wrapping Things Up: How Long is High School Basketball Season
High school basketball seasons across the country typically last for 4 months. Most states will start their seasons in November and end in March. There are a few that will end in February or even go up to April. 
The season is usually scheduled around other sports and the student's academic requirements. Try to get as much information as you can from your coaches so that you can work with your parents, coaches, and teachers to prepare for the upcoming high school basketball season.
Did you find this helpful? You may also enjoy our other basketball FAQ articles here.
> When Does Basketball Season Typically End?