Are you looking for things to do during the offseason and missing basketball? Are you looking to create a countdown of when you can expect practices and games to start? If you're looking to get into basketball or put your child in basketball, it is essential that you know when the basketball season starts. 
It's important to remember that each basketball league can also have different timing. Some associations may also have more flexible schedules. If you are here looking to find any of that information, you have come to the right place. 
We will provide you with seasonal information for NBA basketball, but we will also provide information concerning various popular leagues. To answer the questions, when does basketball season typically start and how long does basketball season last all you have to do is keep reading.
What Months are Basketball Season?
Basketball season is the period of time where practice and basketball games are in full effect. During this period of time, players are fully dedicated to the game and expected to fulfill their duties as basketball players. This period of time and the rules surrounding it can differ depending on where you play the game. This season can be as long or as short as determined by the league, which it represents. 
Despite having a regular schedule, some several events and occurrences can cause the calendars of any of these entities listed below to change. For example, the COVID pandemic began at the tail end of 2019, altered season schedules for several basketball leagues and associations. 
High School Basketball
High school basketball has an exciting structure due to the already condensed school schedule. School basketball schedules will also vary based on your school sporting schedules as well. During the regular gaming season, coaches must work around students' schedules, their studies, and even practices to ensure that they are reaching their fullest potential.
Typical high school seasons start a little before Thanksgiving. This start date allows time for students to get back acclimated with school and prepare for basketball tryouts. Typically, high schools will have a sectional midway through or closer to the end of the season. The full season will usually end around April or March. 
In high school, though you may have a shorter season schedule, it does not stop when the season ends. Unfortunately, it is only just the beginning. High school sports are highly competitive, and scholarships are far more competitive. This level of competition could mean that some students are training year-round on their basketball skills and even fitness. 
Depending on the school your child attends and the level at which they are playing the sport, the offseason may not be a big deal for them. Yet, even at the high school level, there are training camps and off-season fitness camps they are able to participate in. 
College Basketball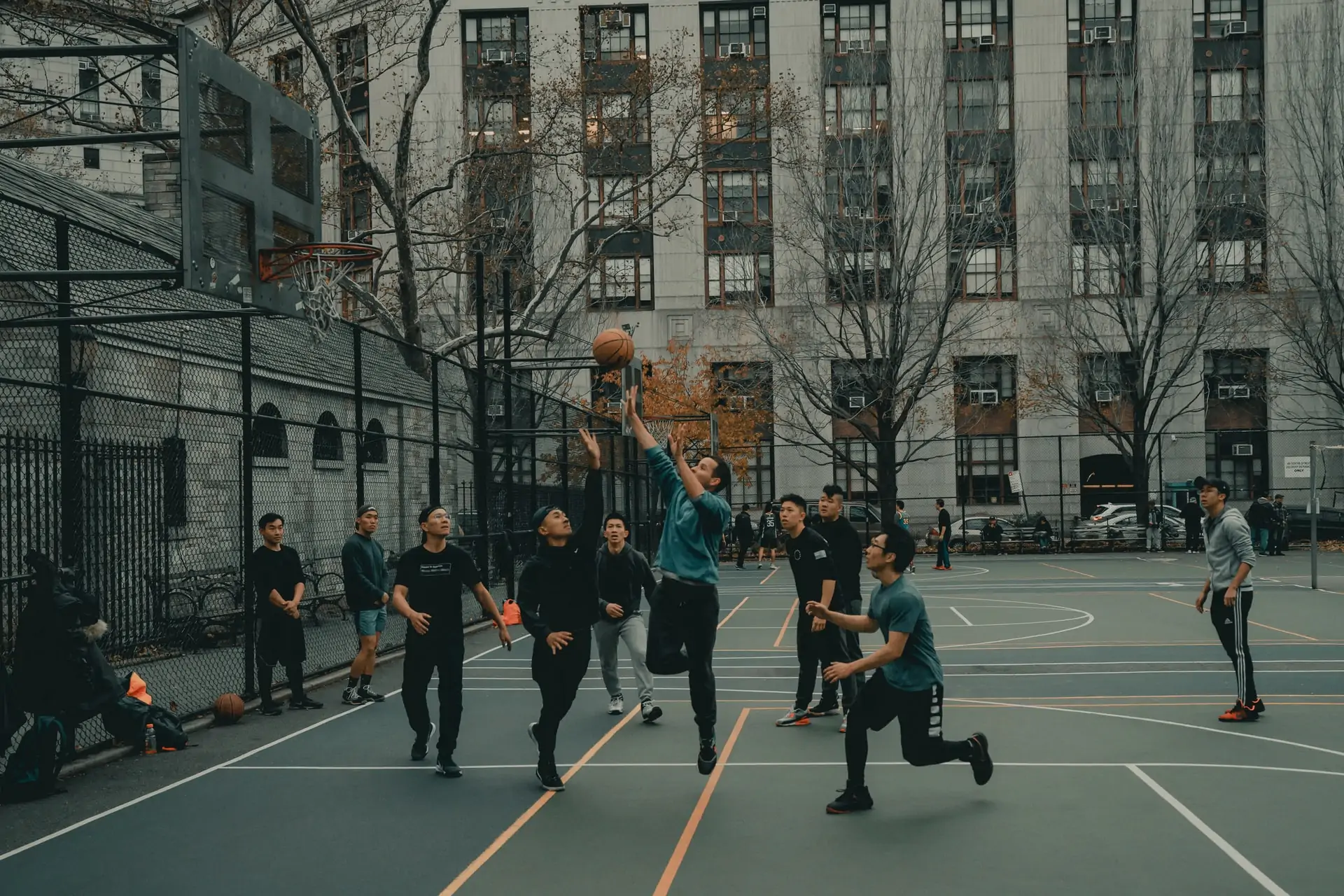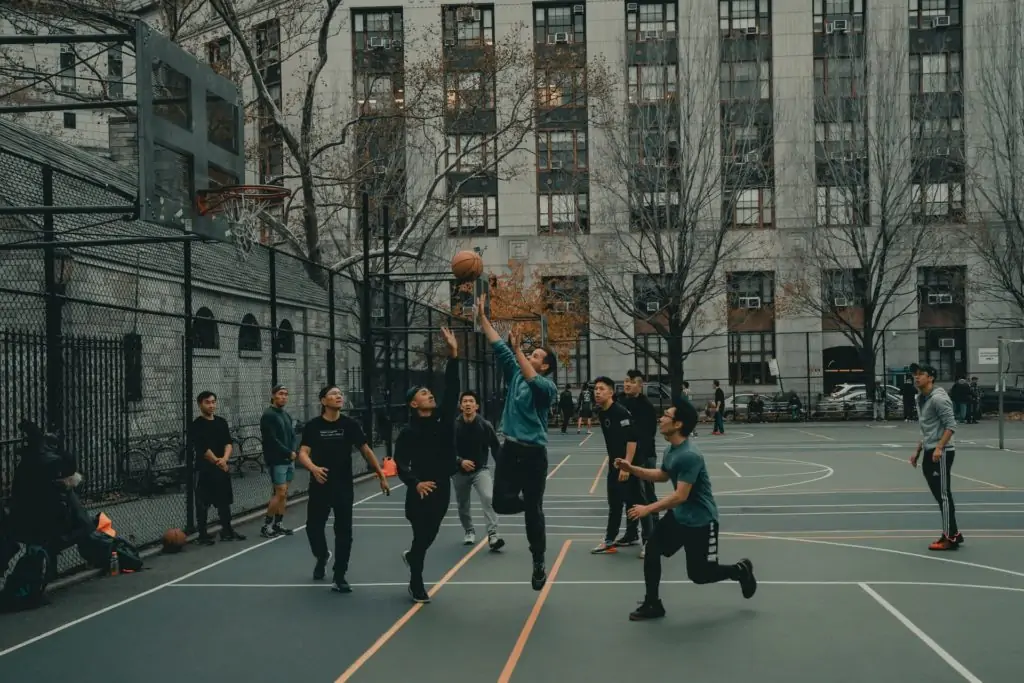 The college basketball scene is one that may seem the most complex to non-basketball players. When first arriving back at school in the fall, coaches will begin to have open gyms in order to prepare students for the coming season. This also helps students get back into the basketball groove. The NCAA uses entities called segments in order to break up the NCAA basketball schedule. College basketball can be broken down into four main sections. These segments include Conference play, conference tournaments, post-season tournaments, and non-conference play. 
The first period of time is non-conference play. This period happens in November and December. Non-conference play will only take place if there are scheduled events. This period generally includes tournaments played in a variety of locations and cities around the country. How well a team does in these tournaments will determine if a team will be a part of the NCAA tournament. 
During the regular season, students will generally play 25 to 35 games. This number can go up or down depending on the number of teams in the league at the start of the season. At the end of regular season play, colleges will have a single-elimination tournament. The team with the best record from the recently ended season will have the advantage of getting the number one seed. The winner will receive an invite to the NCAA Division I Basketball Tournament. If you're wondering how many D1 basketball teams are in the NCAA, then you be sure to also check our guide here.
There are a number of post-season tournaments that may be available to your team. However, the number of games played for a team must not exceed the allowed amount by the NCAA for that year. 
When playing college basketball, your offseason is generally guided towards improving your skills in basketball. On rare occasions, collegiate athletes will play multiple sports and use the offseason for training on a different craft. However, since demands are already high, this is not likely. 
Basketball players will most likely take place in conditioning and training camps, depending on their commitment levels. Some players will have summer jobs; however, many will focus on getting ahead in schoolwork or developing their craft. 
NBA Basketball
There are typically three seasons in NBA basketball. These seasons include the pre-season, the offseason, and what can be referred to as "in season" or more plainly, basketball season. 
For the National Basketball Association, basketball season begins in October and ends in April of the next year. All 30 teams within the NBA will play 82 games in total. This is the time period for the regular season. Teams will play 41 games at home and 41 on the road. Within the NBA, each team will play the other at least once. The NBA also includes a Christmas Day game and has done so since 1947.
Each year the NBA pauses in order to witness the All-Star Game. This game generally occurs in February, and basketball fans are given the opportunity to vote on who they expect to see for the game. The fan favorites then become the captains of each all-star team and must build their team roster.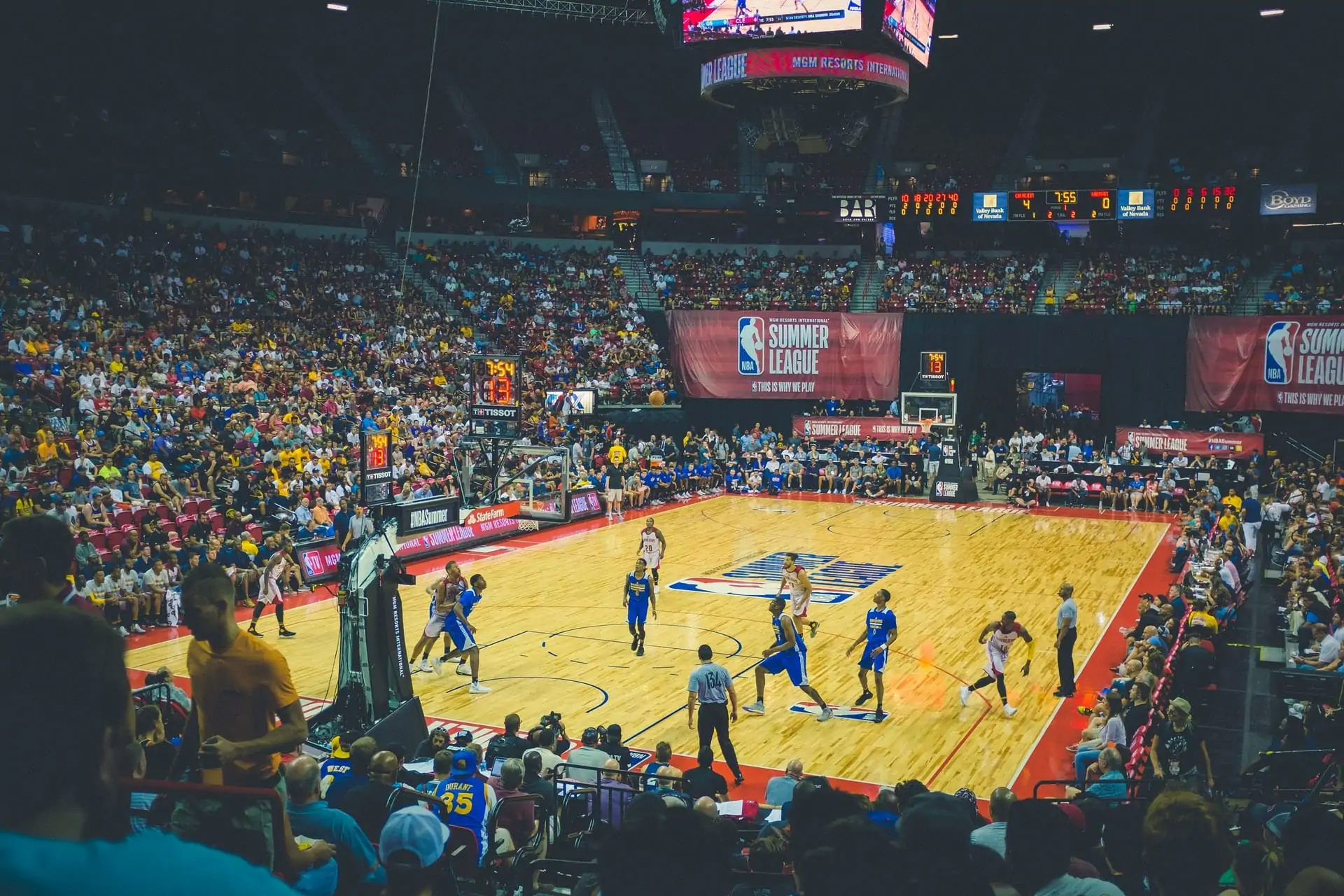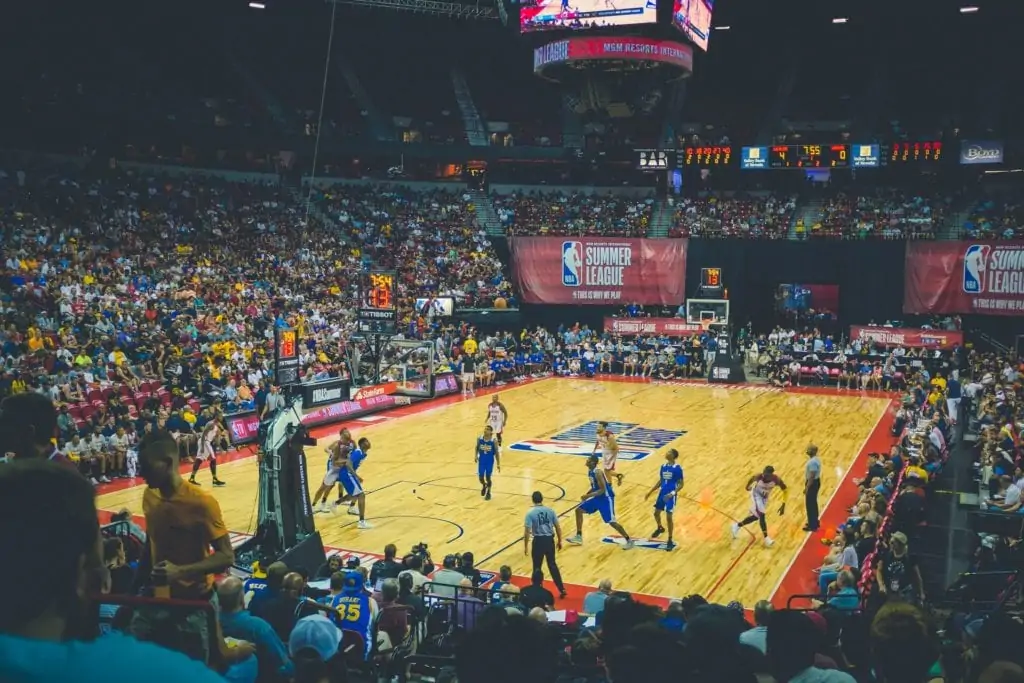 However, before the regular season starts, there will typically be pre-season activities in min September through October. Pre-season events generally center around entertaining the fans. This is also the time when players travel to different countries and play in specialty games. This includes games like the Houston Rockets game against the Shanghai Sharks in September 2019 or the Indiana Pacers Vs. The Sacramento Kings in Mumbai. 
Training camps begin in September for coaches to judge rookie players and evaluate their preparedness for the upcoming season. Rookies are also fighting to become a part of the G League if they do not garner a spot in the NBA. 
Once the regular season has ended, from the beginning of April through the end of May, the playoffs will occur. During April, after the regular season ends and voting begins to determine which players receive what accolades. 
The 2019 season of the NBA is set to come back on July 30, 2020. The season was cut short on March 11 when the stay at home order was issued in various states for the entire country. Instead of proceeding with regularly scheduled home and away games, players will have a single campus located at the Walt Disney World Resort in Florida. 
This change in schedule may have some effects on a teams' seeding. Though some teams may be safe at the top, others are now scrambling to find solutions to shift control and put the seed in their favor. 
WNBA Basketball
The WNBA or Women's basketball league has a slightly different schedule than the NBA. The WNBA pre-season generally begins with the WNBA draft in early April. Throughout the rest of May, players will play a variety of pre-season exhibition games at a variety of arenas. Training camps are also held in May in preparation for the regular season. 
During the regular season, these women play 34 games. These games take place between May and the end of September. Much like the NBA, half of these games are played away and the other half on the team's home turf. The WNBA basketball season schedule encompasses 12 different teams. Much like the NBA, each team visits and hosts each team at least once. 
For the WNBA, the All-Star game is also held midway between the regular season. This generally occurs in July. 
How Long Does Basketball Season Last?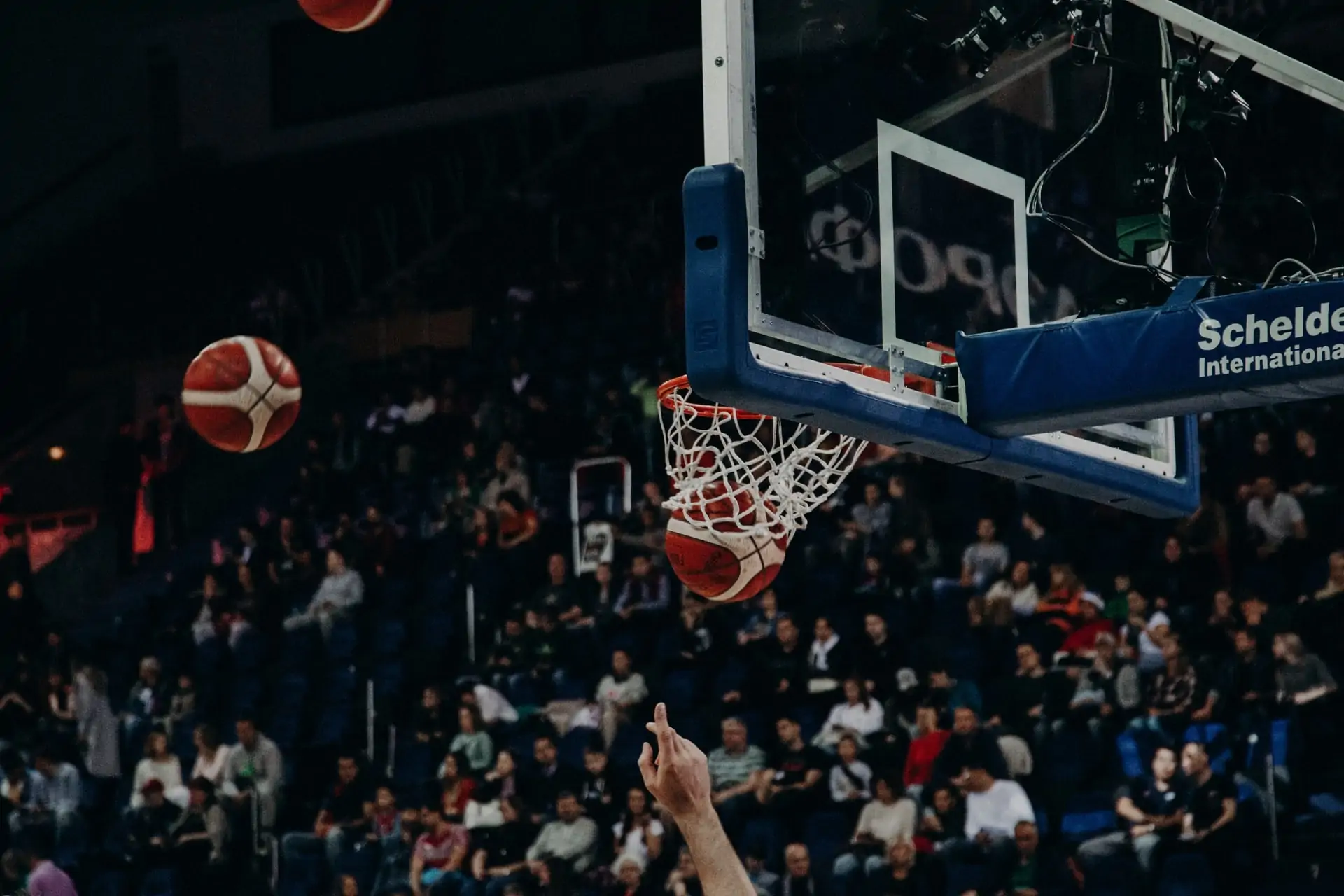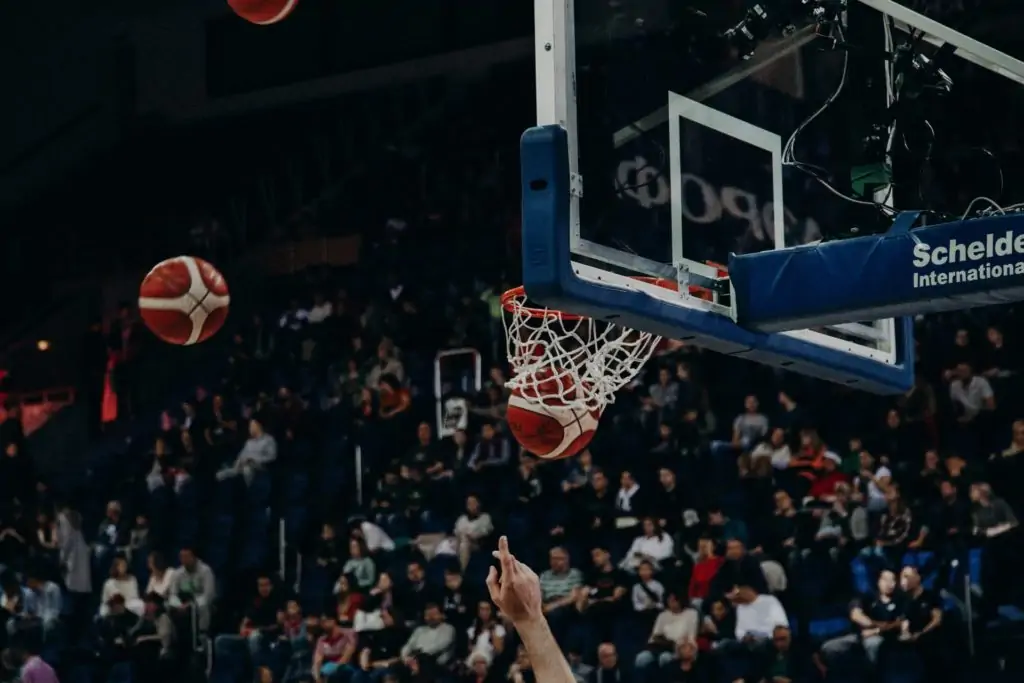 Much like the actual schedule, basketball season length can vary based on the league or school lengths. In the academic realm, the academic calendar is a significant determinant of the actual basketball schedule. This need to incorporate both schedules can generally be seen within high school basketball. 
The NBA and most leagues play a regular-season, which lasts for 19 weeks. This span does not include any pre-season activities or playoff time. Playoff time is not included because teams do not have a guaranteed place in the playoffs. Only the top 4 teams will make it into the playoffs, and the season will end for all other teams. 
For teams who continue into the playoffs, this will generally add 60 days to their schedule, if not more. Sixty days is the average number of days that the playoffs last. Rounds within the NBA playoffs are played using a best out of 7 formats. Within this format, each team will be responsible for hosting the other team at every other game. Games five through seven are only played if a winner has not been determined from the previous games. This brings the total for an NBA season to 27 weeks for teams that actively participate in the playoff festivities. 
Wrapping Things Up: When Does Basketball Season Typically Start?
Depending on the league, you are a part of basketball seasons that can all start at different times. If you are a high school student, your season will likely start right before Thanksgiving, giving students leeway to prepare for tryouts and get acclimated to their academic schedule. 
NBA and WNBA players will often start their pre-season activities with open gyms or training camps. These camps will generally begin around May for the WNBA and in September for the NBA. These activities are then followed by regular-season games, a break for the all-star game, and even post-season tournaments. If nothing else, the information presented lets us know that schedules can vary for each season's activities. 
This notion is evident in all of the changes needed to accommodate personal safety during the COVID pandemic. Though basketball leagues typically follow a strict schedule, owners had no choice but to put a halt to all NBA related games and activities. This change created a need for teams and players to pivot on the fly and even recreate a new schedule that would allow time for regular season and championship game play.
Basketball season is a joyous time and excellent pastime for athletes and fans. Basketball season is often highly anticipated and anxiously awaited!
Did you find this post helpful? Then also check out other basketball FAQ articles here.
> When Does Basketball Season Typically End?