Have you ever wondered why basketball players wear sleeves? Well we've got the answers in this post. 
Before we go any further let's get one thing out of the way, the part of our body that is most essential to playing basketball is our arms. The simple fact is, we cannot play basketball without our arms, it's just impossible. What is that in mind, as basketball players, it is quite crucial that we do any & everything we can to protect our arms while we are on the basketball court. 
Many injuries can be sustained to our arms, so we are going to review a simple product that can help us in this regard. This article will be a comprehensive guide on how you can protect injuries on your arm while preventing others and also how you can squeeze out more performance while you play defense and offense.
Why Do Basketball Players Wear Sleeves? What's their Purpose?
The use of compression sleeves in basketball may not be as popular as the use of compression tights, however, they are still quite visible on the basketball scene. Compression sleeves serve many purposes for the basketball player both on and off the court. 
So, what are compression sleeves? 
Compression sleeves are arm sleeves that are made from breathable, stretchy materials such as polyester, nylon, spandex, silk and microfibers. The sleeves usually stretch from the biceps to the wrist. So why do basketball players wear sleeves? There isn't just one reason for this. 
Basketball players will wear sleeves because the sleeves help to reduce muscle fatigue. Sleeves can reduce muscle fatigue and muscle soreness because they help to increase the blood flow in arm muscles. 
If you are a very aggressive on-ball defender, a high-volume shooter, or a high-usage ball-handler, your arm muscles can go through a lot throughout a game. Wearing a basketball arm sleeve will help your muscles to remain effective for more extended periods and, at the same time, prevent muscle soreness caused by extensive muscle use. 
The reason mentioned before can be quite severe, but sleeves are quite often used for less serious purposes such as fashion statements. Lots of players from professionals to the guy that plays in the park on Sundays, will wear basketball sleeves because they make them look trendy. 
Let's face it, basketball players, for the most part, are typically obsessed with how they look while they play, from big brand sneakers to big brand jerseys, and the basketball sleeve is no exception. The basketball sleeve is one of the highest non-apparel items sold for basketball.
Now back to the other medical reasons why the basketball sleeve is worn. 
Basketball arm sleeves are useful when it comes to boosting muscle oxygenation. Basketball sleeves help with the blood flow in the arm muscles, and as a result oxygenation throughout these muscles is also enhanced.  
If you are a player that regularly shoots while playing, and yes, not every player regularly shoots while playing, you know the importance of your shooting arm being warm. Yes, for you to get hot from the field, it's vital for your muscles to remain warm, and the basketball sleeves can help to keep your muscles at a comfortable temperature so that when called upon, your shot will not be a brick.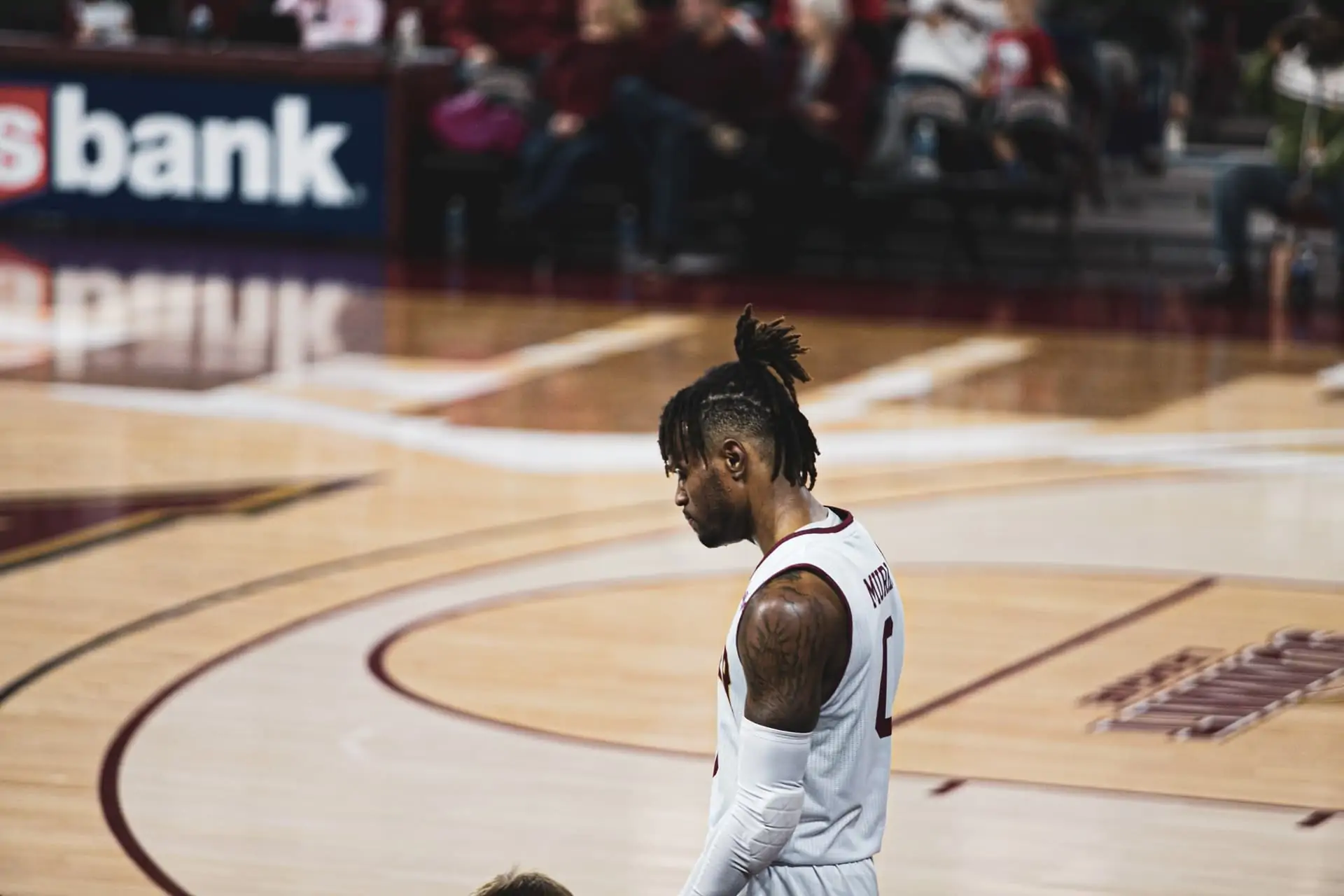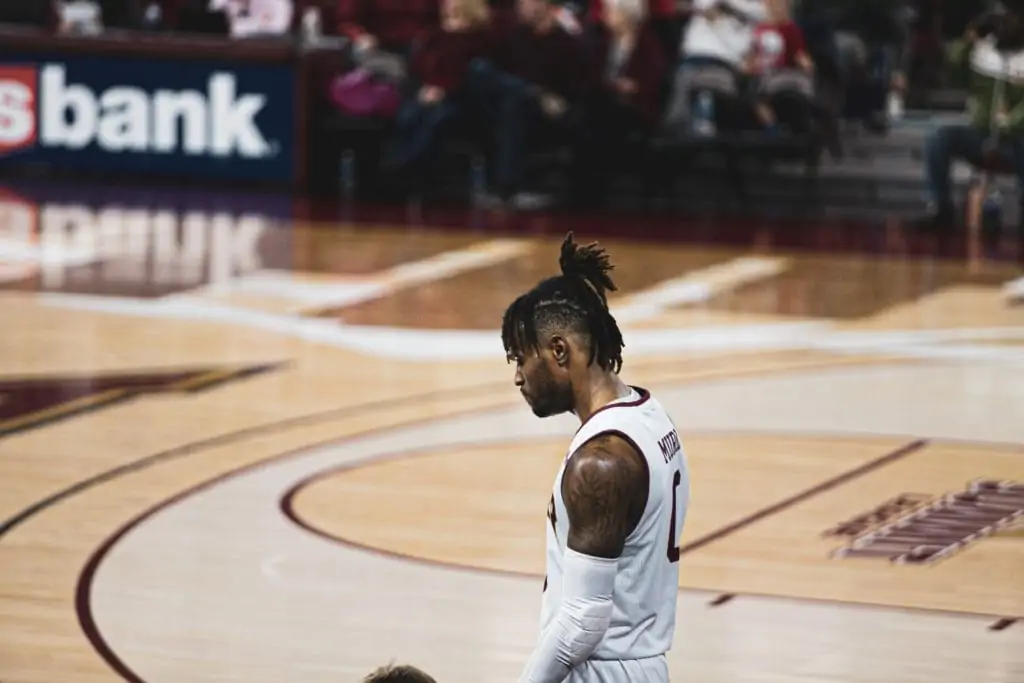 Basketball arm sleeves help when it comes on to sweat. We all sweat while we play. Some of us feel more comfortable with that sweat on our bodies than others. For some players, their arms and hands must remain dry, well, as dry as possible for them to be at optimal comfort levels to perform well. 
Basketball sleeves are made of breathable material. This means that it helps to wick the sweat away from your skin while you are active. Because of this, your arms will remain a lot drier as opposed to you were not wearing any sleeves. 
Some players sweat profusely, and it may be extremely uncomfortable to touch them while playing defense. Wearing a sleeve on your arm will also act as a buffer between your skin and theirs, this may make you feel more comfortable to "sit in the chair."
Basketball sleeves also perform a very important function when it comes on to reducing injury to our skins. Games can be highly competitive, as a result, players can get cuts and scratches from other players on their arms while they go around screens, put up shots, box out on defense, hustle for loose balls and other on-court plays. 
Situations in which players injury each other's skin are quite frequent. For the safety of everyone on the court, it is best when we can avoid them, so wearing the basketball sleeve is an excellent way to reduce skin injuries.  
In the basketball industry today, many companies have started making sleeves that are padded for extra protection. Wearing a padded basketball sleeve will not only protect you from scratches and cuts but will also protect your joints and skin from more aggressive bumps that can be very dangerous. 
Speaking from our personal experiences, we can say that wearing padded sleeves also give players the extra courage that they need to hustle more on the court because they know that they have that extra layer of protection. 
For players suffering from swelling in their elbows due to conditions such as bursitis (a painful condition that happens when the bursa becomes inflamed), wearing an arm sleeve can help to reduce the swelling, hence reducing the pain. Fun fact, this is how the trend of wearing a basketball arm sleeve got started when Allen Iverson wore it for the first time. 
Another useful but debatable advantage or benefit of wearing a basketball arm sleeve is the placebo effect. Players that wear the basketball arm sleeve even though they may not have an injury, may subconsciously believe in its "magical" powers, and this indirectly can lead to them performing better due to audit confidence and bravery on the court.
Finally, let's talk about the recovery of our arms after we play. What role can the basketball arm sleeve play a player's recovery? Basketball arm sleeves provide the benefits of compression to players even after they finish playing. 
Graduated compression sleeves apply more pressure near the wrist and then gradually lowers that pressure near the biceps. This is very useful because when the blood is allowed to circulate quickly to the heart, it aids in the recovery of the arms. 
This excellent benefit of compression is one that players can take advantage of, especially if the turnaround time between games and practices is short. This helps both the shooting and non-shooting arms.  

What's the History of Hoops Players Wearing Sleeves?
Allen Iverson, one of the biggest names in the history of the NBA, began the trend that we are discussing today on January 21st, 2001. Lenny Currier was a trainer for the Philadelphia 76ers in 2001 when Iverson's shooting elbow developed bursitis. Currier had to think out-of-the-box to find a temporary solution for the problem that his superstar was experiencing.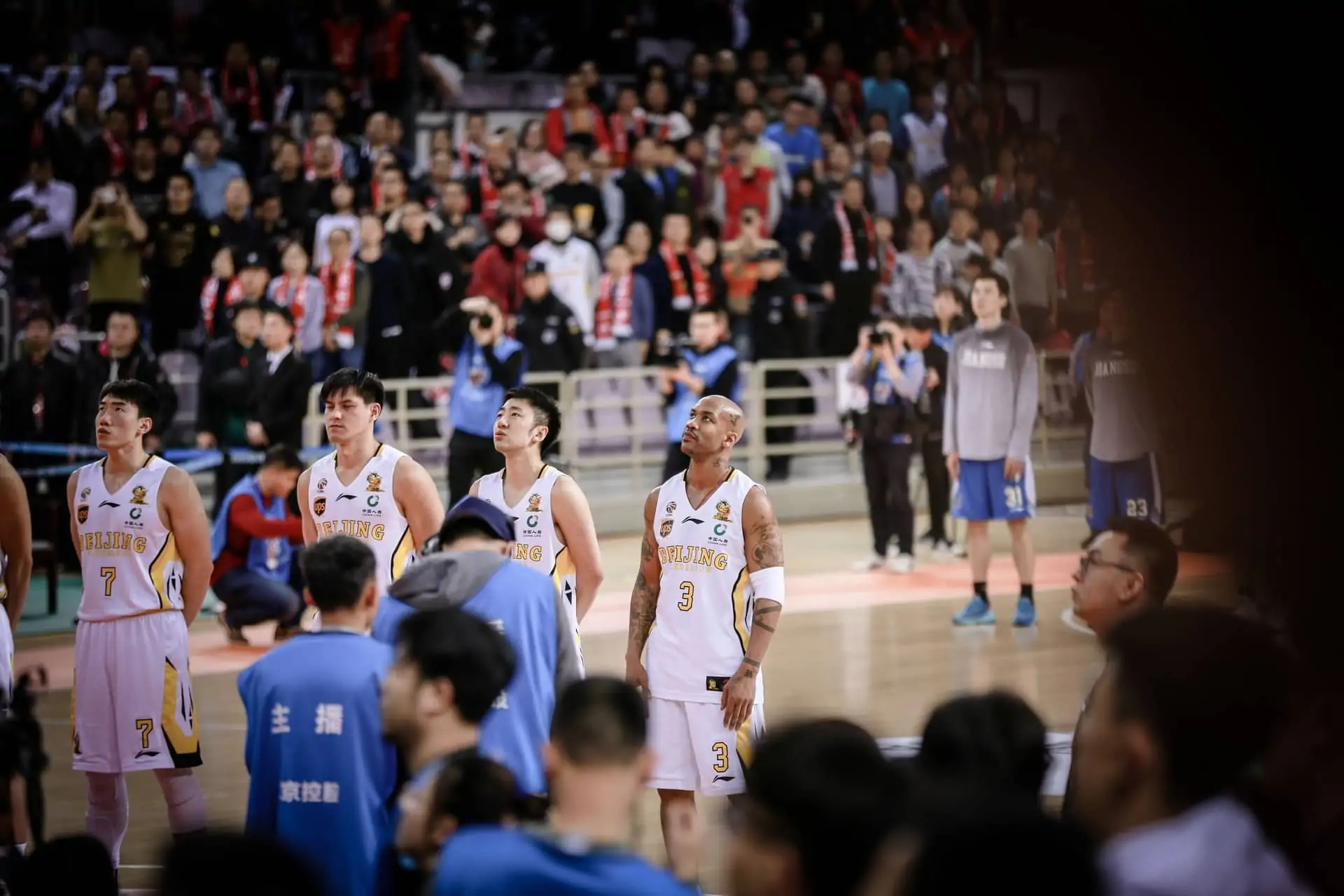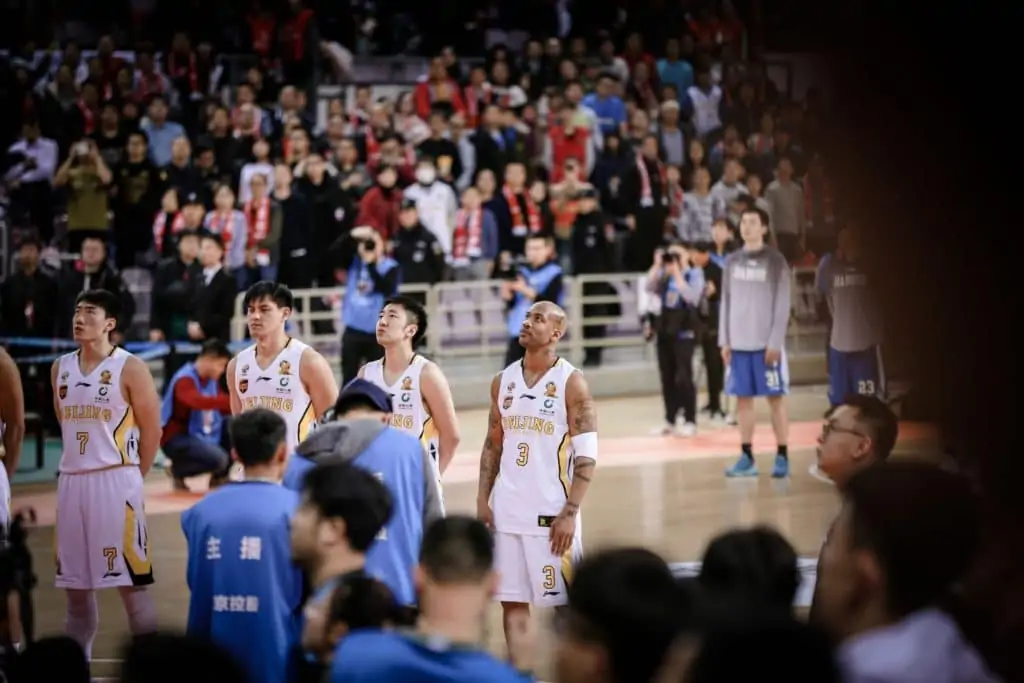 He suggested that Iverson try to play in a piece of tube bandage (compression stockinette) that he had cut for him. While wearing the makeshift sleeve for the first time, Allen Iverson performed quite well, he put up a Mammoth 51 points in that game. 
After his injury healed, Allen Iverson continued to wear the sleeve as a fashion statement, and it quickly caught on throughout the basketball world. For that season, Alan averaged a then career high in points at 31.1 and lead his team to the NBA finals. After Allen Iverson made the sleeve famous, other NBA players started to wear the sleeves r both padded and non-padded. 
Why do Basketball Players Wear Sleeves on Their Non-Shooting Arm?
The majority of players will wear the basketball sleeve on their shooting arm so that they can get its compression benefits for the muscles on the most active arm. So now we need to ask a question, "why do basketball players wear sleeves on their non-shooting arm"? The non-shooting arm can also benefit from compression similarly to the shooting arm, but this is only one of the reasons. 
Let's look deeper into why the non-shooting arm is prioritized by some players as the arm for the sleeve. 
The non-shooting arm is sometimes the arm that is primarily used to rest on players while playing defense, a sleeve on this arm can be a barrier for sweat. Additionally, players coming off screens or holding off players while going up for dunks and layups find that their non-shooting arms are always in contact with the hands of the opposing defenders. This can cause a lot of skin injuries or irritates other previously sustained injuries, so as a result of this, a sleeve can be worn to protect them.
Some players also wear padded sleeves on their non-shooting arm to prevent them from rug burns when they slide on the floor or injuries to their arms when they collide with the opponent.

What Materials are Basketball Sleeves Made Of?
Basketball sleeves are made from a combination of breathable materials. Each manufacturer will choose a combination of materials that is best suited for their market. Some of these materials include polyester, spandex, silk, nylon and microfiber.
It is entirely up to each player to choose the materials that best fit their skin and their playing style. Players will choose padded or non-padded based on the aggression anticipated in their games. 

What are the Benefits of Wearing Sleeves?
Basketball sleeves provide many benefits to players from the benefits of compression to the benefits of the placebo effect. Basketball players that wear sleeves can recover quickly due to the compression allowing for maximum blood flow to their muscles. 
Players that can recover quickly are then able to perform more comfortably and more efficiently than those who do not. Basketball sleeves are also beneficial as it relates to protecting injuries that are healing while a player is on the basketball court.  
Basketball is very physical, and in some cases, players often target the injuries of other players to affect their in-game performance. It is terrific that players can protect themselves with this compression garment. 
In addition to protecting injuries that are healing, basketball sleeves are also able to help in healing injuries such as bursitis and alleviate the pain caused by others such as tendonitis. 
Basketball arm sleeves often come with a placebo effect for players who can't get out of their heads. Whether this is a good or a bad thing, if it is useful on the court, we can't argue with the results.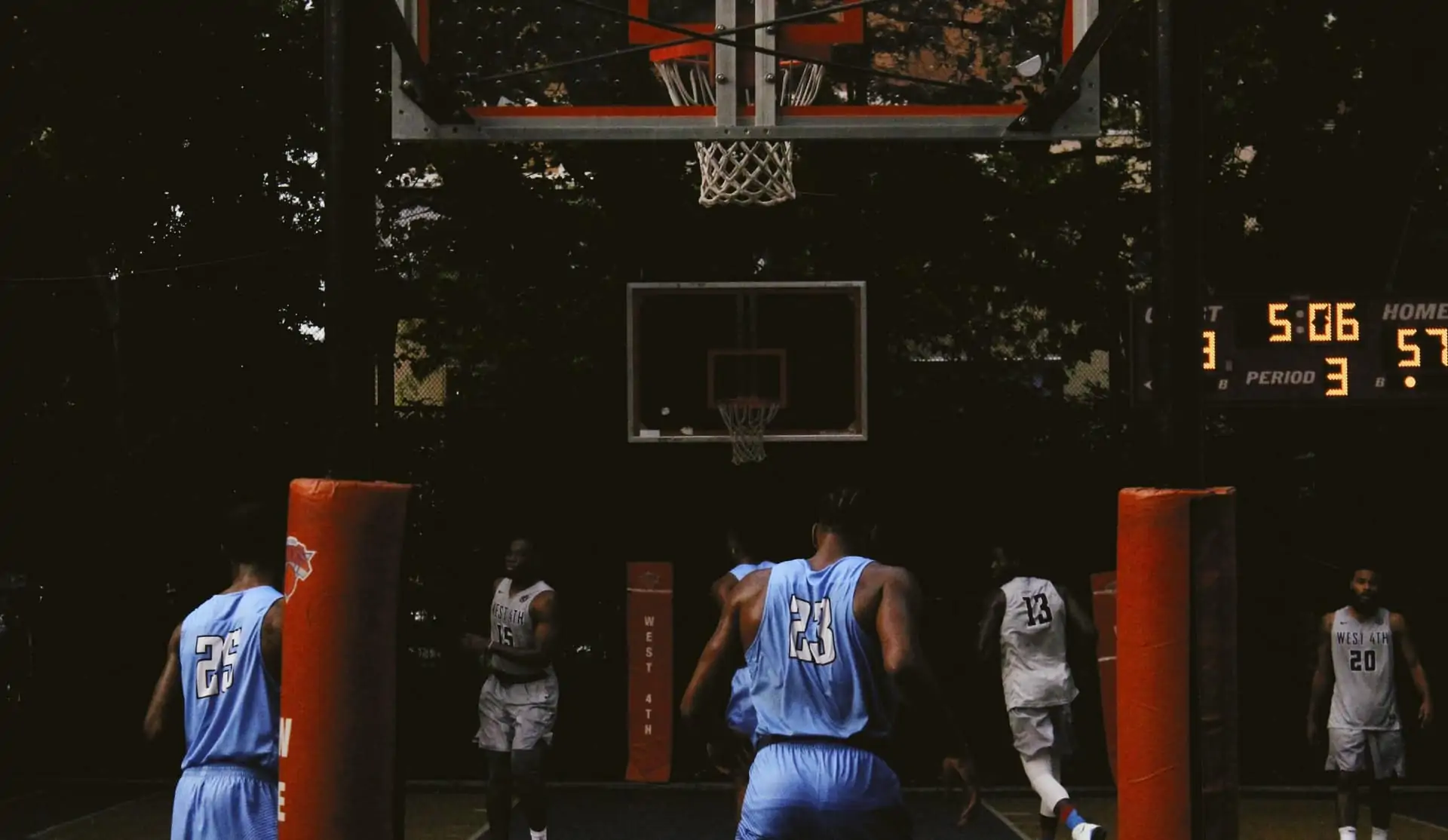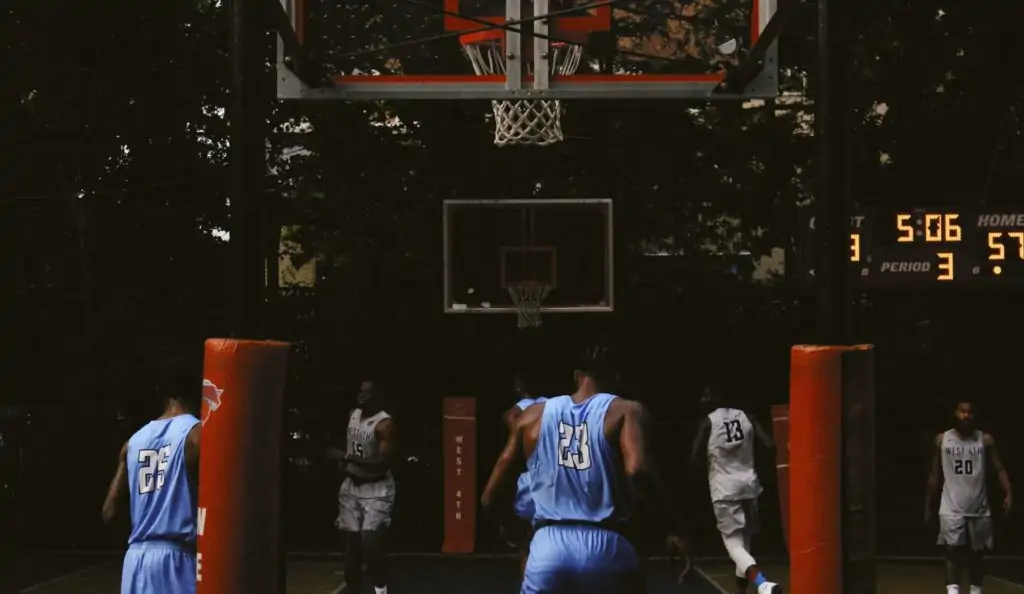 We all know that warm muscles react faster and more effectively than cold ones, so it is an excellent thing that basketball sleeves offer temperature control for the players' muscles while they play.

Who are some Popular NBA Players Who Have Worn Sleeves?
Since the great Philadelphia 76ers point guard, Allen Iverson made the sleeves famous in the 2000 to 2001 NBA season, and many other great NBA players have since worn sleeves. 
A short list of great players that have worn the sleeve include the late, great Kobe Mamba Bryant, the king himself LeBron James, Russell Hustle Westbrook, arguably the greatest shooting guard of all time Dwyane Wade, the Superman Dwight Howard, PG-13 Paul George, Jesus Shuttlesworth Ray Allen, CP3 Chris Paul, and Carmelo Anthony. 
A large amount of all the players have also worn sleeves, but as you know, we can't name them all. These players wear the sleeves for a variety of reasons, from Allen Iverson's injury to Kobe Bryant's tendonitis and everything in between. 

Where Can You Buy Basketball Sleeves?
Because basketball sleeves are so popular, it is not challenging to locate stores that sell them. Anyone can buy basketball sleeves at sporting goods stores that sell basketball gear. You can walk into any of your local stores and get one. 
If you are an online shopper, you can visit any of the major (nike.com, adidas.com) or minor sporting goods online retailers, and you can order one to be delivered to your door. Please keep in mind that you will need to order one that is of the correct size. Your color preference or the colors of your team should also be important when placing your orders. 
Oh, and one more thing if you are allergic to any of the materials that were mentioned earlier as it relates to what the sleeves are made from, please try to find one that is made from a material or a combination of materials that are safe for your skin.
Here are three of the most popular basketball sleeves available:
Sale
BUCWILD SPORTS Compression Arm Sleeve - Youth & Adult Sizes - Baseball Football Basketball Sports (1 Arm Sleeve)
COMFORTABLE COMPRESSION FIT...Bucwild Sports poly-spandex moisture wicking material will keep your arm dry and your muscles warm
PEAK PERFORMANCE...Each arm sleeve is engineered to offer mild compression for increased circulation to the arm allowing for faster muscle recovery and decreased fatigue
ALL SPORTS...Bucwild Sports compression arm sleeve is perfect for athletes in baseball, football, basketball (shooter sleeve), volleyball, golf, tennis, bowling, running, cross fit, cycling, weightlifting, spartan, as well as those with:, elbow pain, arm pain, soreness, and swelling
Wrapping Things Up: Key Takeaways on Basketball Sleeves
Once you get accustomed to the feel of the sleeves on your arm, basketball compression arm sleeves do not typically affect players in negative ways. Basketball sleeves are quite useful to protect healing injuries and to help current injuries heal. We should always try to prevent injuries to our arms because, as we agreed before, our arms are the most critical aspects of our body when it comes on to playing basketball. 
Just like professional players, other non-professional basketball players also have a variety of reasons why they wear or would want to wear a basketball sleeve. If a basketball sleeve appeals to you only for the fashion, by all means, go ahead and get one. If you have a more dire need for a basketball sleeve, the advice is the same, go ahead and get one. 
It's only fair that we let you know the basketball arm sleeve is not a magical sleeve that will instantly turn your bricks into swish. Remember, the basketball sleeve is not a replacement for hard work and dedication to your craft. Respect yourself, respect the game, put in the training and you will see results. Until next time ballers, sleeve up and ball out.
If you enjoyed this post, you'll like our other basketball FAQ articles here.
Here are some basketball FAQ related articles you may find interesting:
> Why Do Basketball Players Wear Tights?
> Why Do Basketball Players Wear Masks?
> Why Do Basketball Players Wipe the Bottoms of Their Shoes
> How Long Can You Wear a Knee Compression Sleeve?
> Who Wore Glasses in the NBA?