Whether you're a diehard basketball fan eager to cheer for your fav team or just someone who wants to look good in their streetwear, you grab a basketball jersey without delay. You think you look incredible, but you don't. Onlookers will have hands in their mouths in amazement at how silly you look. You can avoid embarrassing situations when you know how to style basketball jerseys. Looking chic in a basketball jersey is easy.

How to Wear a Basketball Jersey?
Basketball jerseys on the court should be comfortable to wear for easy movement of the players, and it's more about style when worn outdoors. Let's discuss how to wear a basketball jersey casually.
Avoid personalized jersey
Please don't make the error of paying the price for a basketball jersey with your name on it. People wear basketball jerseys to pay homage to their idols. NBA players fought a lot of hardcourt battles that earned the respect of basketball fans. Wearing a number 6 Laker jersey with Michael on it will make LeBron supporters frown.
Wear a t-shirt under the jersey
Showing too much skin may raise eyebrows. Wearing an undershirt with your basketball jersey can go as a casual look.
Wear a colorful top
Wearing colorful tops will make you look sporty and chic. A sky-blue V-neck or turtle neck will blend well with a dark blue jersey for a polished look. Consider wearing sweaters to be playful with your jersey's colors.
Don't tuck jersey
The rules of the NBA require players to tuck their jerseys to protect them from injury and not hinder their performance. Wear basketball jerseys casually, and you're not on the hardcourt, so NBA rules don't apply. Besides, you'll look ridiculous walking the street with the jersey tucked.
Proper fit
The rule of thumb for fit is a size bigger; wear a size L if you're a medium. You might look funny if your basketball jersey is too large or small for your body frame.
Wear complementary bottoms
Athletic bottoms will complete your outfit. Track pants or basketball shorts do the trick. Be sure that your shorts complement the design of your basketball jersey. The trend of shorts nowadays is about two inches above the knee.
Pick the right shoes
Sneakers are the safest choice for jerseys. Depending on your bottoms, other picks are sandals, loafers, and boat shoes.

What Goes Well with Basketball Jerseys?
Think about fashion accessories to complement your basketball jersey. Wear sunglasses to protect your eyes from glare and UV rays and add style to your fashion statement if you're on the beach. Chains are popular among NBA players, making your outfit more interesting.
Comfy sneaker pairs well with jerseys; wear sandals or loafers if the weather is warm. Avoid scuff marks on your footwear.
An undershirt will make your jersey look formal, as well as a jacket Review your shade mixes to coordinate the color of both tops.
If you're a fan of Jay-Z, Dipset, or other celebrities, you'll know how to wear a basketball jersey with a hoodie and rock them like a uniform.
You can get away with the no-hat rule as long as it is matched with the right basketball outfit.
Wearing a shirt under a basketball jersey will keep you warm and hide your figure flaws.
A pair of white sneakers will make you look fast even if you're not.
Wear a compression shirt if you're playing the game. The wicking fabric absorbs sweat and doesn't make you clammy. It helps prevent injury from the impact when bodies collide on the floor.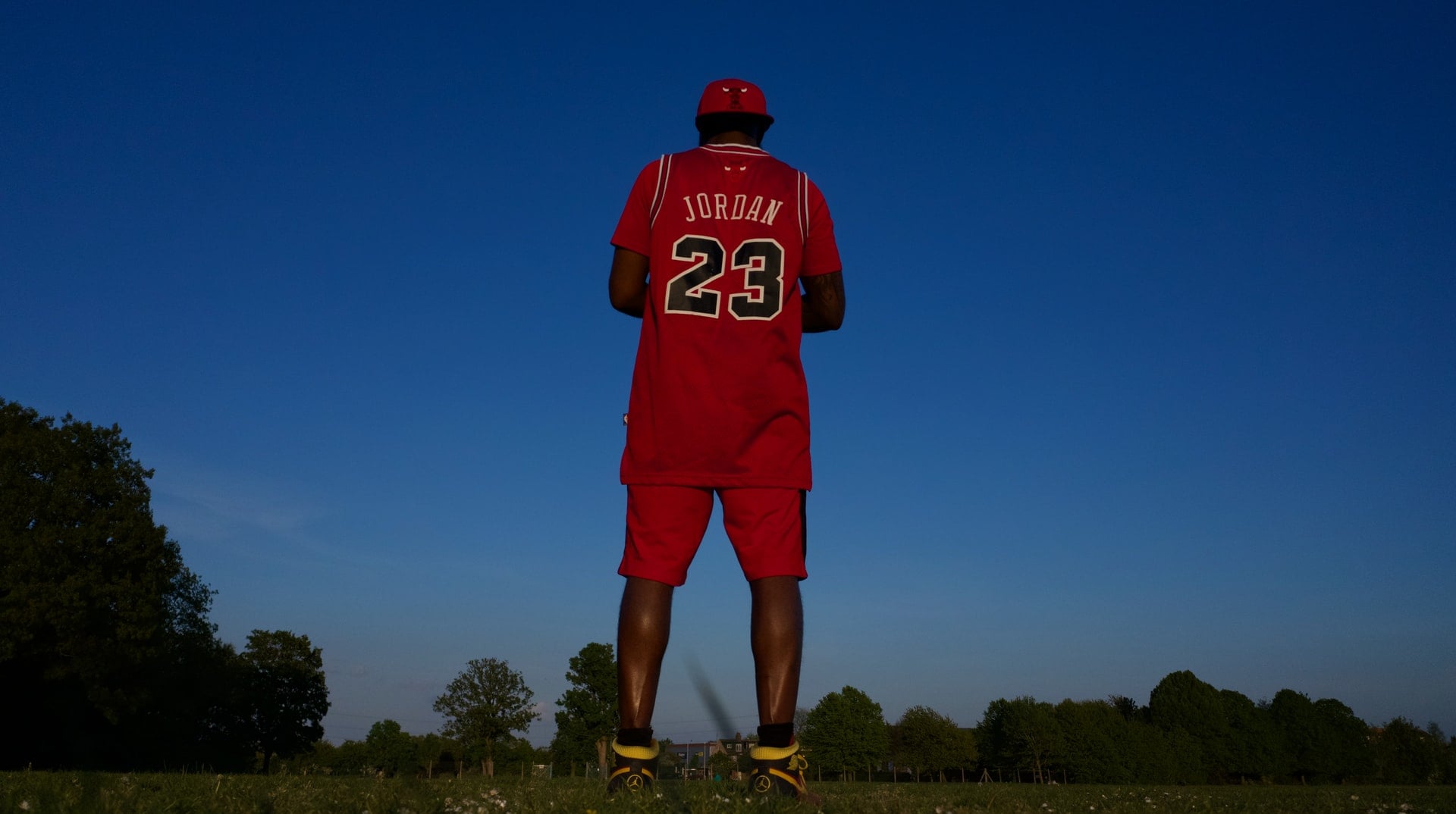 3 Ways to Style Basketball Jersey for Men
Basketball greats Michael Jordan, Allen Iverson, Dennis Rodman, and LeBron James took the basketball jersey to the next level, and the current cream of the NBA crop continues to groom it. Basketball created its unique uniform that became part of our daily outfit.
And if you know how to style a jersey for men, you can walk the streets looking cool.
1. A hoodie
A hoodie is a perfect collaboration adopted in street fashion for a classy, sporty look. It's laid-back and more elevated than the scruffy undershirts in your closet. Seal the deal with an Air Jordan hoodie and enjoy the best of both worlds; style and comfort.
2. Bottoms
Sports shorts are different from the ones worn on the court. These are pairs that are donned above the knee instead of below. A plain pair will indicate that you are in the sport but not too restricted in the basketball style. The loose, breathable material can give you a sporty look which you can wear anywhere.
The comfy fit of basketball shorts will have no trouble securing their place in the outdoors. It will hint that you are ready to shoot hoops.
There's nothing wrong with jeans, be sure it's not too long.
3. Footwear
Nike's LeBron and Michael are iconic footwear that is a fashion statement off the court. You won't run out of style, from the classic hi-top trainer to the futuristic designs. The long queues make it hard to get the latest drops.
Tone down on the colors of your shoes if you've got a colorful outfit unless you want to look Christmassy. But if you've seen the Nike KD 12 Wavvy, you wouldn't mind wearing the bling shoes in light shades of pink, blue, and green.
Loafers will complement your outfit; wear sandals during the summer months.
3 Ways to Style Basketball Jersey for Women
Basketball jerseys were not made exclusively for men; women have their say and design them with a bang. Ladies know how to style basketball jerseys pairing this iconic clothing for a genuinely endless combination. Look chic with a basketball jersey as a slouchy mini dress or over a hoodie, it can work wonders.
That said, here are three outfit inspos to help casually showcase your personality.
1. Wear a basketball jersey as a dress
An effortless outfit that can make you look darling. You don't have to worry about pants, but if you must, consider biker shorts. Add fun with accessories and footwear. Start your ensemble with a dark beret, drape yourself with a biker leather jacket, and dress your feet in a thigh-high boots.
Beyoncé or Rihanna can get away with a jersey only, with no pants-just saying.
2. Wear a basketball jersey with jeans
You'll never go wrong pairing your jersey with jeans. It is a fashion style made for summer where you can let it all hang out. Tattered jeans with heeled shoes can give sophistication to your jersey top. Highlight your curves with a shirt wrapped around your waist 
Girls can spice up their looks by opting for denim shorts rather than jeans to greet the hot summer day. Turn heads with retro necklaces and sunglasses.
3. High street look
The high street look has no rules.
Walk down memory lane with a vintage look. Bell-bottom pants paired with a basketball jersey and platform sandals will bring you back to the '80s.
Project a high-fashion look with a sheer jersey dress over a bodycon dress. Shades and a purse will complete the ensemble.
Look elegant with a jersey tucked in a body-hugging midi skirt. Add pizzazz with gladiator heels and a neat clutch bag.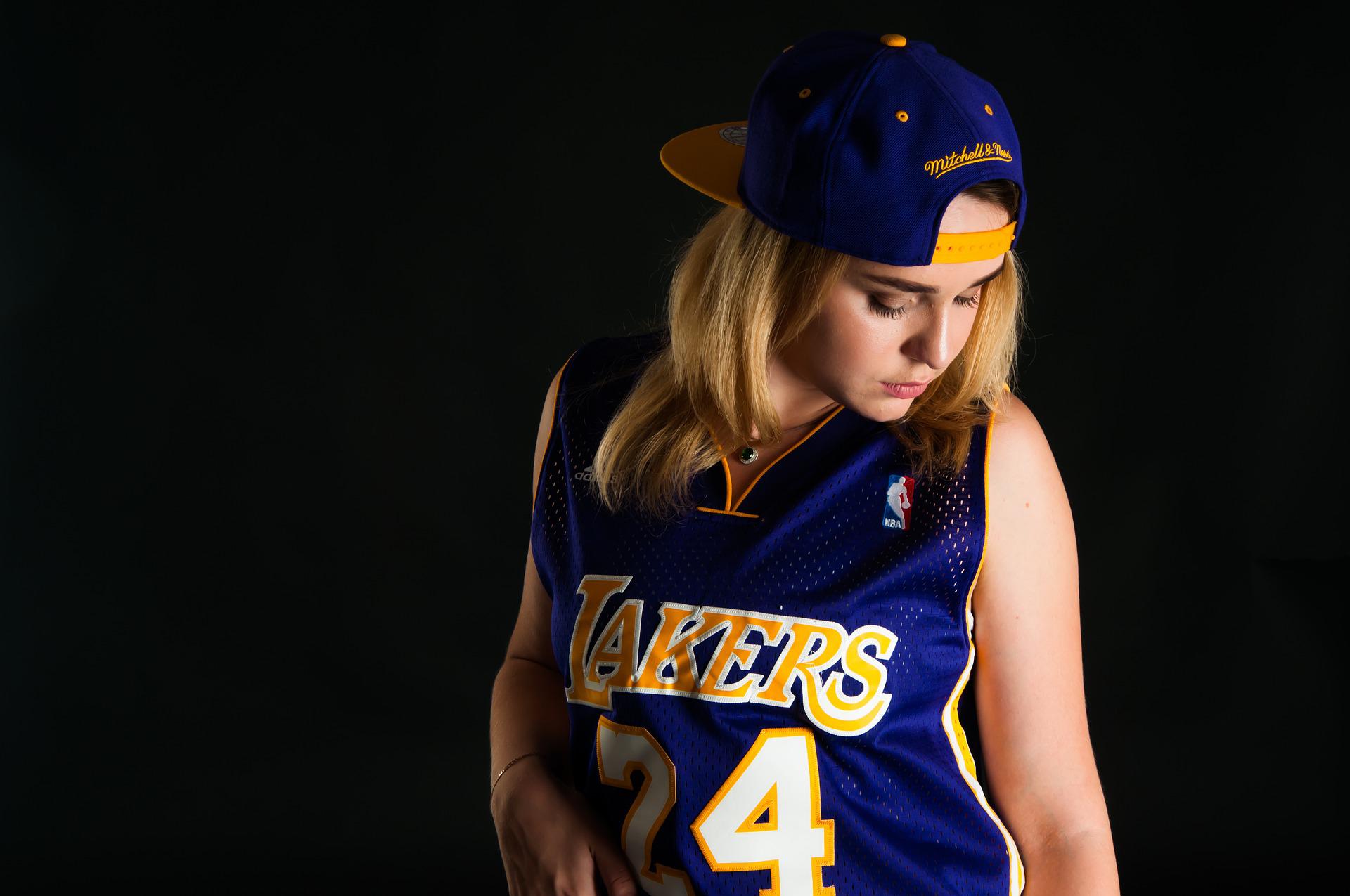 Do's and Don'ts of Wearing Basketball Jerseys
Don't think that a cool-looking jersey completes your ensemble. It's not always the case; there are style points to consider if you want to look good.
Know how to wear your jerseys with these tips we prepared.
Do's
1. Wear it with an undershirt when on the outdoors. Be mindful of your color mix; a light blue undershirt blends well with a dark blue jersey.
2. The right fit is a size bigger than your body frame. If you're a medium, go for a size "L."
3. Your jersey color should be different from your shorts unless you're on the court. 
4. The more throwback of a jersey, the more you'll rock.
5. Fashion accessories like shades or chains will make you look more attractive.
6. Properly hang them to avoid wrinkles from folding.
Don'ts
1. People won't hate you for wearing a jersey without an undershirt on a cold day, but don't expect new friends. They think you're a nutcase.
2. Don't tuck the jersey; you're not wearing it as a uniform.
3. Avoid wearing a basketball jersey on formal occasions, you'll get many comments and confused looks.
4. A cap is worn only by baseball players and does not fit your basketball jersey.
5. Avoid sinning by wearing a jersey lettered and numbered for you. Pick a name of the player or a legend you admire; it'll have more star power and bang your buck.
6. If you're going to a basketball game, don't wear a baseball or a football jersey.
7. Wearing a misspelled jersey is unacceptable.
Wrapping Things Up: How to Style Basketball Jerseys
Wearing a basketball jersey can be a conversation starter, but you can avoid starting on a sour note if you know how to style basketball jerseys. Make people laugh with you, not at you.
Basketball jerseys instill a sense of pride. 
Be sure about the right fit to look great when you wear it. Spend your money on something you will wear and not sit in the closet or hang on the wall.
Did you find this post helpful? Then you may also like our other basketball FAQ articles here.
> How to Wash a Basketball Jersey
> How to Wash a Swingman Basketball Jersey