The main ingredients for success in basketball are skill, playing hard, high basketball smarts, and determination. Genetically gifted with height is a bonus.
Height shouldn't hinder reaching your full potential; there are advantages of being a short basketball player. You are a walking offensive and defensive threat. Offensive players won't be easy to shake off your pesky defense with your quick moves and busy hands. When you're on offense, defenders will find a hard time keeping up with your ball handling, change in directions, maneuvering through the human traffic, shooting, etc. Practice to be the best. Read on to know more about how to get better if you're a short basketball player.
Does Height Really Matter in Basketball?
Being tall against the competition is an advantage in almost any sport. Basketball players are tall, slim athletes; their physique helps them defend against opponents and score on offensive plays. Other essential features accompany the height, such as hand span and arm reach.
NBA players have an average height of 6-foot-6, 9 inches more than an average American's 5'9″ frame. Let's delve deeper into how height matters in today's game.
Offensive Position
The height of the rim is 10 feet tall. On low post plays, tall players have a clear view of the goal for a more accurate shot, and less force is needed to thrust the ball into the basket. Taller players can shoot over their defenders, ensuring that the ball won't get swiped. Tall players have an advantage on offensive rebounds for easy putbacks.
When bigs are positioned outside the free-throw lane, they benefit from a clear sight of the activities on the court. They can make their shots with little distraction from the opposition, provide screens, or pass to their open teammates for easy goals.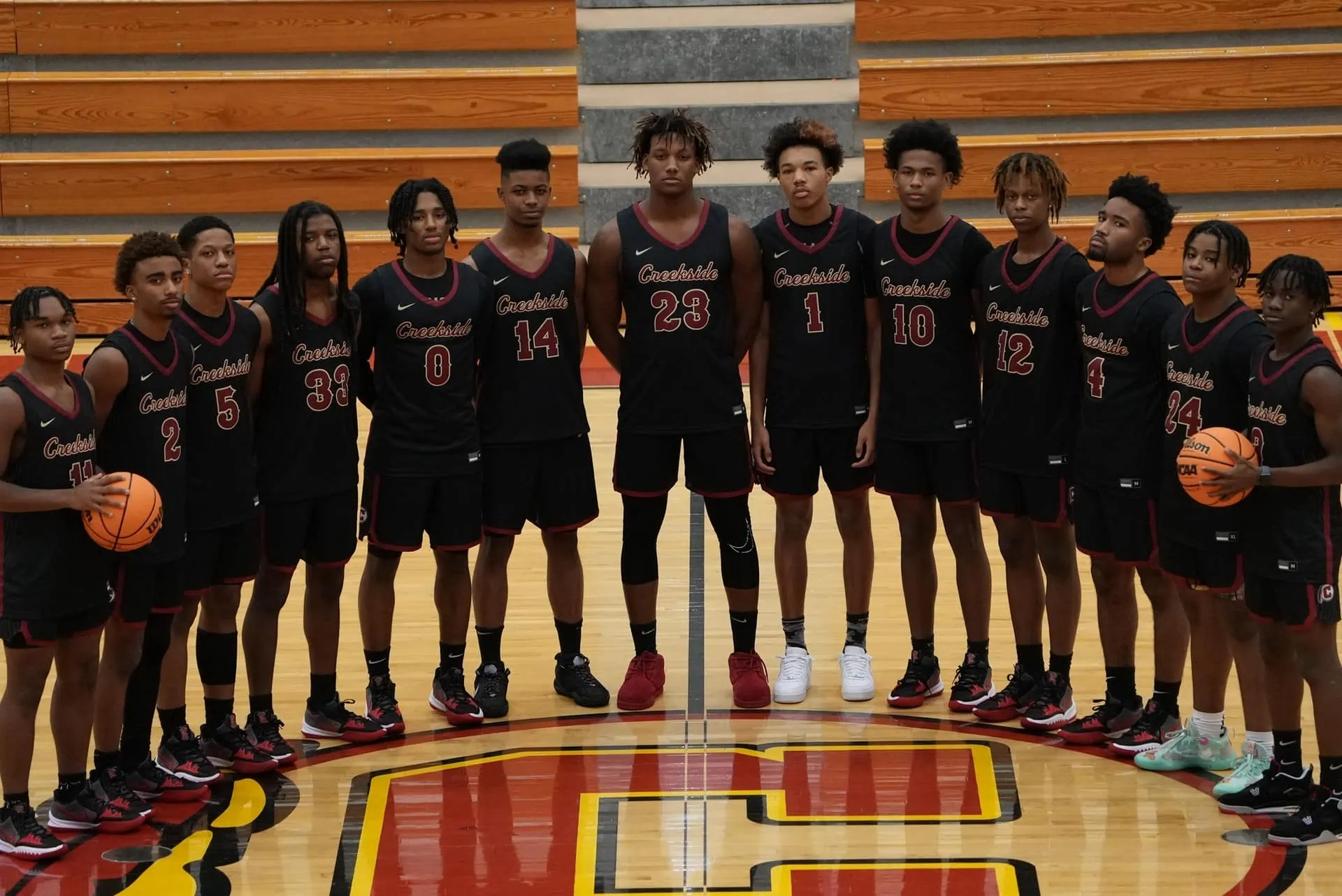 Joel Embiid from the Philadelphia 76ers uses his height to his advantage. At 6'10" (2.13 m), Embiid has a 0.49 field goal percentage which translates to 30.6 points per game during the 2021-22 NBA regular season, including 11.7 rebounds and 4.2 assists per game.
Defensive Position
The center tends to be the tallest and most prominent player on the team. His wingspan and reach are an advantage in grabbing rebounds and hurling the ball to a streaking teammate for fastbreak plays. The center's presence in the shaded lane intimidates opponents from driving to the basket. The offensive player either gets blocked or changes his shot resulting in a missed goal.
Tradeoffs
Bigs can do it all, though not all equally well since they have weaknesses. Bigs have the advantage in height and heft, but most of them lack agility and difficulty executing maneuvers which is a tradeoff in basketball. Tall players can block shots and get rebounds; however, they are not ball handlers and have trouble guarding outside shooters.
Tacko Fall is a 7'6″ (2.29m) giant whose hands can touch the ring without jumping. Fall played 37 games in the NBA for the Boston Celtics and the Cleveland Cavaliers. Fall was waived by the Cavaliers on January 9, 2022, and was re-acquired by the Cleveland Charge in the NBA G League.
Basketball evolved, and players have to adjust to the game's needs. Tall players have to dribble well, shoot from the three-point arc, and maneuver in crowded situations.
Giannis "The Greek Freak" Antetokounmpo from the Milwaukee Bucks, represents modern basketball. His height of 6'11' (2.11 m) is good enough for a center slot, but he plays as a power forward for his team. Antetokounmpo joins Kareem Abdul-Jabbar and LeBron James as the only NBA players to win two MVP awards before reaching 26; his credentials include:
NBA champion (2021)
NBA Finals MVP (2021)
2× NBA Most Valuable Player (2019, 2020)
6× NBA All-Star (2017–2022)
NBA All-Star Game MVP (2021)
3× All-NBA First Team (2019–2021)
2× All-NBA Second Team (2017, 2018)
NBA Defensive Player of the Year (2020)
3× NBA All-Defensive First Team (2019–2021)
NBA All-Defensive Second Team (2017)
NBA Most Improved Player (2017)
NBA All-Rookie Second Team (2014)
NBA 75th Anniversary Team
What Height Is Considered Short for Basketball?
The average measurements of NBA players are as follows:
| | | | |
| --- | --- | --- | --- |
| Position | Height w/o shoes | Wingspan | Standing Reach |
| Point Guard (PG) | 6'1 ¼" | 6'6 ½" | 8'2 ½" |
| Shooting Guard (SG) | 6'4 ¼" | 6'8 ¼" | 8'4 ¼" |
| Small Forward (SF) | 6'5 ¼" | 6'10 ½" | 8'8 ¼" |
| Power Forward | 6'7 ¼" | 7'0 ¼" | 8'10 ¼" |
| Center | 6'9 ½" | 7'3" | 9'2 ½" |
So, if you're below 6'1 ¼", you're short and cannot play basketball. – Not true. Contrary to popular belief, basketball is an inclusive sport that does not discriminate against height, and anyone can play regardless of size. Standing over 6-feet tall is not a requirement.
Basketball is a game between two teams with players pitting skills against each other. Most people who play basketball do it for the love of the game. You feel the adrenalin pumping when you outplay your opponent; one-upping someone gives a psychological advantage; it makes you feel good. Controlling your dribble, hitting the bottom of the net on shots, and maneuvering through crowded plays complete your game. Your training and basketball smarts paid off by raising your level of play.
The NBA's policies do not have a minimum or maximum height requirement. Instead, players are selected based on the skill and ability they bring to the court. The NBA welcomes talent; as long as you've got a game to show, the organization has a place for you.
Here are some basketball trivia about short basketball players in NBA you might not know.
Wataru "Wat" Misaka of Japanese descent is a 5'7″ (1.70 m) point guard. Misaka was the 61st pick in round 7 by the New York Knickerbockers (Knicks) in the 1947 NBA draft, known then as the Basketball Association of America (BAA). He was the first Asian and non-white to play professional basketball.
Anthony Jerome "Spud" Webb, who is 5'6″ (1.68 m), was the third shortest player in the NBA and the shortest Slam Dunk King who won the crown in 1986.
Louis Herman "Red" Klotz was the shortest, 5'7" (1.70 m), BAA (now known as the NBA), player to win a championship ring with the Baltimore Bullets in 1948.

Muggsy Bogues

measuring 5'3" (1.6 m) is the shortest basketball player to don an NBA jersey. Boggs' career spanned 14 seasons playing for four NBA franchises. He appeared in a cameo role in Space Jam alongside Michael "His Airness" Jordan.
Can You Be Good at Basketball If You Are Short?
The average height in the NBA is 6'6," and you meet the average size in the world of 5 feet 7 inches. So does it mean that you're too short to play basketball? It all depends on your goal as a player and how bad you want it. Things will be more complicated than for a tall player. There'll be lots of days when you'll get discouraged and frustrated.
You have to change your mindset; work on your weakness, which is your height, by improving on the other facets of your game. You have to accept that you're short, and you need basketball smarts and work your ass off to be good in your game. The reality of basketball is height is might. Even if you have a hand in the face of the shooter, they will still knock down the jumper.
Here are some tips on how to get better if you are a short basketball player.
Improve your Ball-handling and Driving to the Basket
You have to establish yourself as a reliable guard. The ball will be in your hands often, and you'll control the game's tempo and create plays for the team.
Your ball-handling abilities should be better than anyone on the court. Ambidexterity in different dribbles is an effective weapon against defenders, such as cross-over, speed, reverse, low, and change-of phase. Practice dribbling with two balls in your hands; dribbling with one ball will be easy during a game. While at it, practice with chairs acting as defenders, and maneuver over them as you drive to the hoop. Every dribble and movement should be quick and strong. Use your speed and size to work your way around the basket. Your drive will free you up for opportunities to score or draw the defenders to you for a dish to an open teammate.
Shooting
Basketball is a scoring game; the team on top gets the W when the buzzer goes off.
Aside from ball-handling; and driving, drawing, and dishing to an open teammate, a small guard should have a decent shooting percentage. Defenders will get confused whether you're driving in for a lay-up or pulling up for a jumper. Short players use the floater to score. Shooting is an offensive weapon that will make the defense hard to catch up. Take the cue from Steph Curry, who makes 1000 practice shots a day.
Defense
You should make up for speedy feet and energetic hands that you lack in height. Learn to be swifter and more responsive than the tall players. Covering the open lane to your rim will disrupt the play of the offensive team and allow your teammates to set defensive positions.
Build a strong body
Basketball is a contact sport, and body strength is needed to last the bumps on the court. Behind the spectacular passes and unique shots is a rigid body that adds up to speed.
Be a team player
Successful teams play unselfish, play together, and they play hard.
Small guards should focus on dishing out the ball for open looks by teammates.
What Position Does Short People Usually Play in Basketball?
The positions of the five players on a team are the point guard (PG) or 1, the shooting guard (SG) or 2, the small forward (SF) or 3, the power forward (PF) or 4, and the center (C) or 5.
The point guard is the court general and the shortest player on the team on the court. This position requires good ball-handling skills, high basketball smarts, and the ability to direct team plays. The point guard can also play the 2 role if he has a good shooting arm.
The role of the point guard is to push the ball upcourt and keep the offensive wheels rolling. They should dish passes to open teammates, retreat on defense, and make most of his shots count.
Wrapping Things Up: How to Get Better if You are a Short Basketball Player
Being short is not your fault; blame your genetics. Blame yourself if you're not a good basketball player.
Height does not determine if you can be a good basketball player, but heart over height will. There are short basketball players in NBA who carved their names in the game. If you can't beat tall players, outwork them.
Never rest until your good is better and your better is best.
We hope you enjoyed this post! If you did, be sure to check out our other basketball FAQ articles here.
You might also be interested in our posts about:
> How to Get Better at Basketball at Home
> How to Get Better at Basketball: Tips & Drills
> How to Get Quick Feet for Basketball