The American Athletic Association (AAU) is a youth sports organization that develops youth sports and promotes physical fitness. It is competition among non-school teams. When does AAU basketball start? It runs from March to late June for elementary school players and March to July, with June off for high schoolers. But tournaments are going on throughout the year.
Enrolling your child in the program does not come cheap. Parents can expect to pay between $400 to $4,000 per summer depending on the team and club, the players' skill, and the coach's salary.
AAU basketball is confusing and a harsh landscape to understand. This material will help you determine if the AAU basketball program is worth it for you and your hoopster.
Can Anyone Play AAU Basketball?
Players who are not older than seven can start playing AAU basketball and can compete up to 19 and under.  
It's easier to find a boy's basketball team closer to home than a girl's program. Often, girls wind up playing in a boy's team until they grow out a girl's team or find an all-female group in another organization. AAU allows a team composed of girls and boys if there is no girl team around.
AAU has no room for beginners starting to know the basics of basketball. Players in the program have acquired the fundamentals and are playing up their skills to be better players. Before inking the registration sheet, ask yourself if your hoopster has the skill level to enter the program. Ponder on these things:
Skill and abilities
AAU is not a program for beginners. Most players have been playing basketball for a while and use the program to acquire an experience from an elite level of competition that they won't get in their community.
You don't want your hoopster to get discouraged at the start. Some programs teach the basics of basketball, like dribbling, shooting, and passing.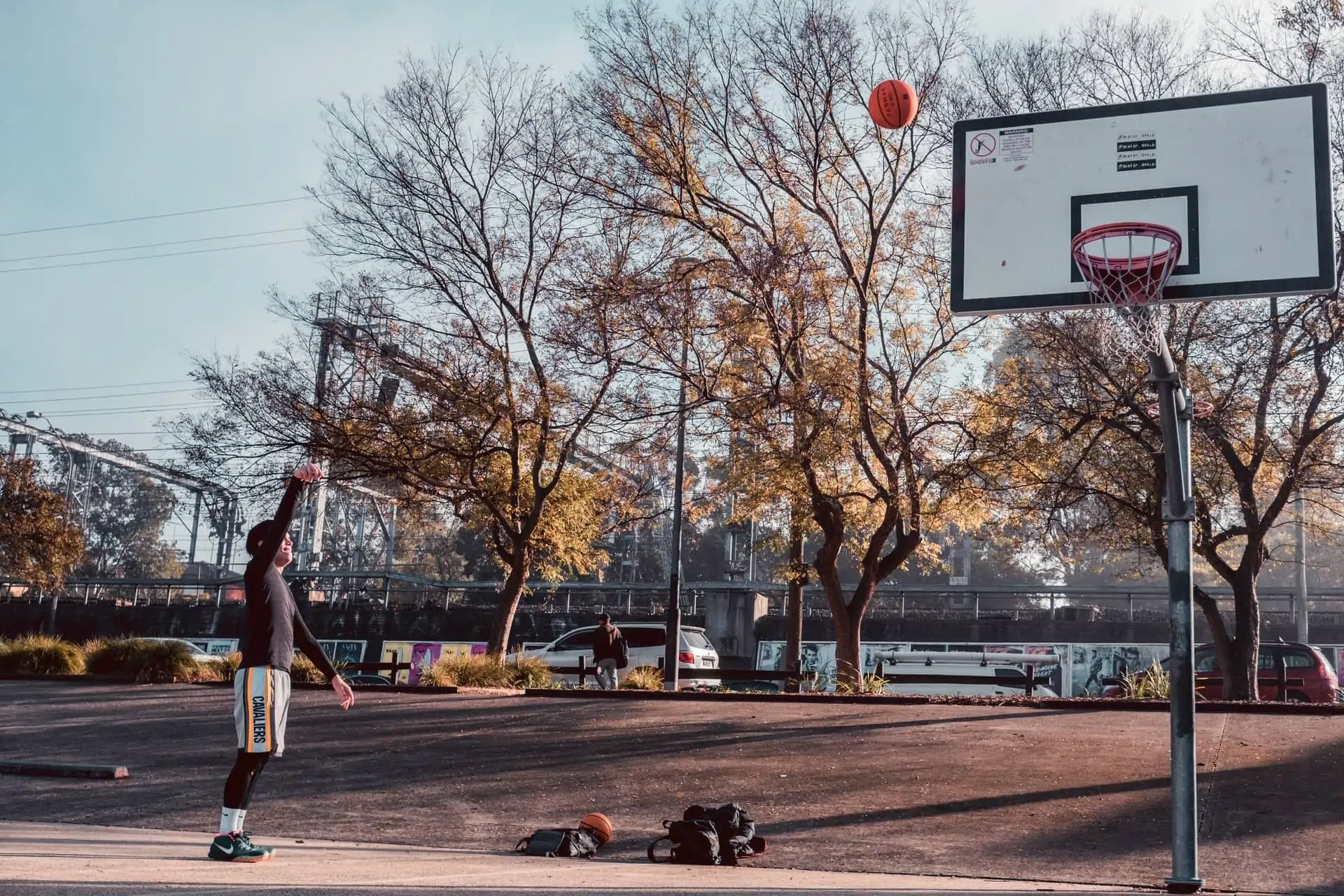 Goals
Define your goals. Will the skills be used in playing a more competitive level such as college basketball or the NBA? Most kids playing in AAU have parents who have played basketball for a long time, are currently playing, or love the sport.
Basketball is a fun sport; are you willing to invest time and effort to keep it enjoyable?
Travel
There are AAU games that require intercity or interstate travel. Traveling will bring you to unfamiliar territory; new players to compete with, new coach's plays, and a new venue. The experience will step up your level of play from either good or bad competition.
What Does It Cost to Play AAU Basketball?
The cost to play AAU basketball comes with a price. 
A parent or a player might ask how much it costs to play AAU basketball?   
The cost ranges from $400 to $4,000 per year. We came up with a table showing the breakdown of costs involving AAU basketball players. There might be costs that were not included; these vary by team. The $ amounts are placeholders and cannot be used as a reference in preparing a budget.
| | |
| --- | --- |
| Item | Cost |
| Registration | $25, one time cost |
| Team dues | $50 per month |
| Insurance | $12 per year |
| Out of town trip | $800 – $900 per travel |
| Membership | $14 – $16 per year |
| Basketball coach | $20.75 an hour or $830/week or $3,597/month |
| Tournament fees | $100 – $700 per team, per tournament |
| Venue donation | $125 |
| Referee | $150 per game, per referee |
Why is AAU Basketball So Expensive?
Families pay thousands of dollars for their AAU basketball player, hoping to land a college scholarship. Why is AAU basketball so expensive? AAU games require travel, and registration and coaching fees add to the program.

Out of Town Travel
AAU basketball requires travel, and players have to shoulder the expenses for airfare, gas, board, and lodging. There are about eight intercity or interstate journeys per tournament. It takes about $900 to defray the costs for every tripper. Prepare the same amount if you're a parent accompanying your hoopster.
Competition breeds success. Out-of-town sorties will bring players to unfamiliar territory upping their skill level a notch higher. Facing new opponents, new plays designed by the coach, and a new environment will give them the experience to make them better players. Without out of town sorties, hoopsters will be playing against familiar players in their locale, taking time to develop their skills.
Team Fees
Team fees start at $50 and go as high as thousands of dollars for elite AAU teams. Think about LeBron James from the Oakland Soldiers, Mokan Elite producing Trae Young, Illinois Warriors featuring Dwayne Wade, the likes of Kobe Bryant and Vince Carter out of Patterson New Jersey, and Derrick Rose's Mainstreets team.
Basketball Coach
The basketball coaches in the AAU earn between $29,500 to $51,500, with top earners receiving $70,500. The pay covers only regular games; practice sessions require additional payment.
Some teams have assistant coaches; some get paid, while others do it for free.
Referee
There are two referees in AAU basketball games. The fee for each referee starts at $20-35 for youth games and $45-$150 for competitive high school games.
If you're still trying to figure out why AAU basketball is so expensive, this post is for you.
Is AAU Basketball Worth It?
Criticisms are part of life, and there will always be a reason to criticize. Parents, basketball coaches, and alumni criticized AAU. Even NBA great Kobe Bryant says it is not teaching the fundamentals of the game to meet the requirements of modern basketball.
This material explores some of the criticisms and the benefits of the AAU program. Hopefully, parents and players can find the answer to – is AAU basketball worth it? Or at least to understand the issues to come up with a sound decision to join or not the AAU program.
Criticisms
Little or no practice
Basketball is a fun game, and not playing much or practicing takes away the fun. AAU doesn't have practices; it's just about scrimmages if they do. Practicing with someone improves your movements, dribbling, and shooting skills. And just playing basketball won't make you a better player; practice makes perfect; it is the key to success.
Lack of fundamentals
AAU is no place for beginners; they don't put time into the fundamentals. Look for a program that will teach your hoopster about the fundamentals of the game before joining the program.
Coaching
Many AAU coaches have little or no experience teaching and working with kids or young adults. Coaching in AAU doesn't require a certificate; a self-appointed coach gathers 10-12 players in an age group and registers in the AAU program.
Burn out
If playing is your goal, you'll have tons of it in AAU. However, it'll be like a useless exercise, bringing your type of game from one game to the next. There is no time to learn and work on mistakes, no practice to execute plays. A player will bring his bad game to every game and tournament and can burn out.
Benefits
Time on the court
There are basketball scouts in the bleachers that are your ticket to play college basketball. Your time on the court depends on your ability; the exposure is worth it if you've got a game. Some of the games kids play are huge with the best talents around.
You have to earn your playing time by lighting up the stats sheet. Points, rebounds, assists, and less turnovers are the keys to more time on the court.
Competition
AAU tournament has excellent competition. The best players are gathered, bringing in talents from other cities allowing players to advance their game. Competition is fierce. There will be tough losses, challenging games, and tough plays; players and teams must deal with adversity.
These experiences will teach your player grit, determination, and toughness that will help them later on in life
Zero preparation
Without any scouting report, no practices, and no defensive game plan, a player is forced to react in real-time. Forcefulness makes a player physically and mentally demanding, building confidence to overcome roadblocks to be a better player.
Friendship
Basketball allows the players to make new acquaintances while having fun. Traveling basketball will enable you to meet new people and experience new places that you may never have.
Teamwork
Learn to play as a team going after competition. You'll be able to read your teammates' roles, personalities, strengths, and weaknesses. Embracing your role for the team's benefit is a valuable life lesson.
Wrapping Things Up: How Much Does It Cost to Play AAU Basketball?
If you ask yourself, is AAU basketball worth it? This question is not for you but your player. Talk to your child; know his goals, needs, and wants. Before coming up with a decision, consider these suggestions:
Research the coach's experience. Talk with him about their exposure to the game, skill development ideas, and travel.

Ask the club about the costs to avoid any surprises.

Check the club's website look at the record of credibility. Seek information from alumni about their experiences.  

Inquire about the tournament schedule. The club should plan ahead of time, be well organized, and be consistent with how they do things.
Finding the right AAU basketball program will be an excellent opportunity to develop your hoopster's skills and a rewarding experience. Ending up with the wrong one will be a terrible experience in many ways.