The NBA's 75-year history is full of legendary teams across different eras. There are Bill Russell's Boston Celtics, who won eight straight championships, Magic Johnson's "Showtime" Lakers, Larry Bird's 80s Celtics, Michael Jordan's Chicago Bulls, and so on. Needless to say, the teams mentioned took home multiple championships. But, it begs the question, has any team went 16-0 in the NBA playoffs?
Let's find out and learn something new every day.
Has any NBA Team Ever Went Undefeated in the Playoffs?
Before directly answering that question, let's briefly delve into the history of NBA playoffs formats. 
Prior to the 2003 season, the NBA playoffs started with a best-of-five first-round series. That means a team could win a championship by winning 15 games in the playoffs. The NBA changed the five-game format to a best-of-seven in 2003. The league did so for various reasons– maximizing revenue and minimizing upsets. 
With these facts considered, if there ever was an undefeated team in the playoffs, they would go 15-0 before 2003 and 16-0 after. So, has any team completed four NBA playoffs sweeps en route to a championship? The answer is none, but only two teams came very close. These are the 2001 Los Angeles Lakers and the 2017 Golden State Warriors.
The Los Angeles Lakers went 15-1 in their 2001 championship run, only losing to the Philadelphia 76ers in Game 1 of the Finals. During that time, the format was still a best-of-five first-round series. In the same vein, the Warriors lost Game 4 to the Cavaliers in 2017, bringing their record down to 16-1 during that run.
Which Team Has the Best Playoff Record in NBA History?
The Los Angeles Lakers and the Boston Celtics have 17 championships apiece. Therefore, it's only natural to expect these two teams to have the best playoffs record in terms of wins and winning percentages.
Across the cities of Minneapolis and Los Angeles, the Lakers franchise accumulated 456 wins and 305 losses, a winning percentage of 60%. They made the playoffs in 62 of their 74 seasons. 
Throughout its team history, the Boston Celtics are also a force to be reckoned with. The white and green won 382 playoff games while losing 293 times. That is a substantial 57% winning percentage.
Based on single playoff runs, the 2017 Warriors mentioned above (16-1) are the best, followed by the 2001 Los Angeles Lakers (15-1), 1991 Chicago Bulls (15-2), 1989 Detroit Pistons (15-2), 1999 San Antonio Spurs (15-2), 1996 Chicago Bulls (15-3), 1987 Los Angeles Lakers (15-3), and the 1986 Boston Celtics. The Warriors and Lakers obviously have the fewest losses in NBA playoffs for a single postseason run.
What Teams Have the Worst NBA Playoff Record?
The still-existing team with the worst NBA playoff record is the Minnesota Timberwolves. The T'Wolves nine out of 33 seasons and compiled a win-loss record of 18 wins and 34 losses. That's a little less than a 35% winning percentage. Minnesota had a first-round exit in 2018, their first playoff appearance since making the Western Conference Finals in 2004.
However, the Wolves did not have the worst playoff winning percentage in NBA history. That distinction belongs to the now-defunct Indianapolis Olympians. They entered the NBA in 1943 and folded in 1953. The Olympians compiled a 4-9 win-loss record in the playoffs during that span, good for a 31% winning percentage.
Which Players Have the Most Playoff Wins in NBA History?
Sustained excellence is one of the requirements of being a superstar in the NBA. This is essentially what separates the good from the great, the greats to legends. There are NBA players that are really good– like Hall-of-Fame good– but did not have much playoff success. It would be unfair to taint the legacies of these players solely on that premise, but it's also a compelling argument otherwise.
Here are the 10 players with the most NBA playoff wins:
1. LeBron James (174 wins)
James made eight consecutive Finals appearances at one point, so it's no surprise the guy has the best playoff record in the NBA in terms of wins. The guy has played in 266 playoff games and won 174. The scary part is, he may not even be done yet at age 37!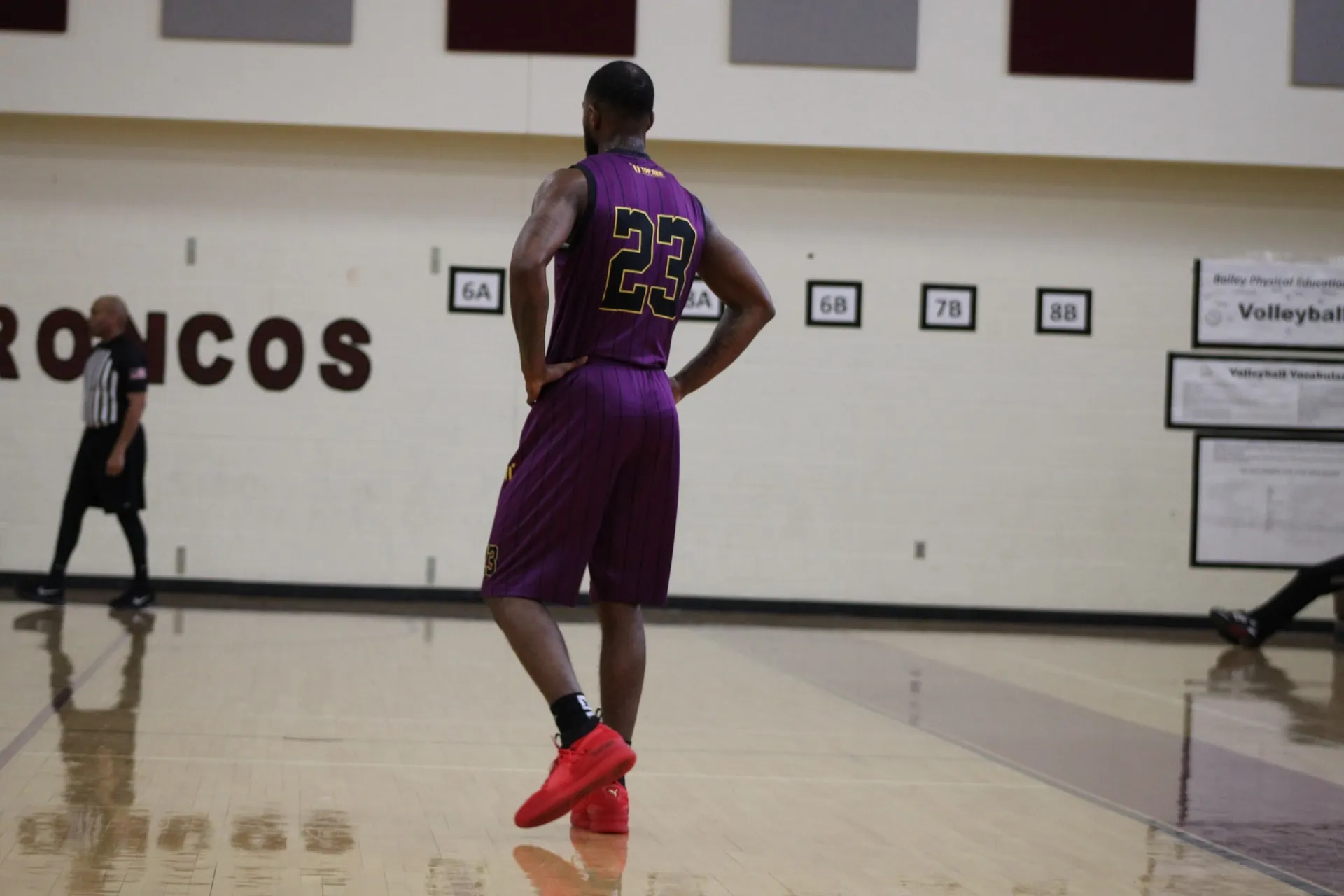 2. Derek Fisher (161 wins)
D-Fish is one of two players that may not be considered stars in this list. While he may not be the focus of opposing defenses, Fisher was a steady performer with a knack for hitting clutch buckers (remember 0.4?). The 6-foot-1 point guard won five championships alongside Kobe Bryant, but he also had playoff stints with the Jazz, Warriors, and Thunder on top of his Laker years.
3. Tim Duncan (157 wins)
Timmy D has not missed the playoffs even once in his illustrious career. The 157 wins came from consistent deep playoff runs that ended in championships for the Spurs in 1999, 2003, 2005, 2007, and 2014. Out of all the players in this list, Duncan is second in RPG (11.4) and blocks (2.3), a testament to how great TD was when it mattered the most.
4. Robert Horry (155 wins)
Horry had the most championships out of anyone on this list and was the only non-Celtic to win at least seven rings. "Big Shot" Bob was a rotation player for the Rockets ('94 and '95), Lakers (2000-02), and Spurs (2005 and 2007). Like Fisher, Horry can knock down shots in pressure situations and is one of the earliest stretch 4s of the game.
5. Kareem Abdul-Jabbar (154 wins)
Kareem has six championships on his resume, one with Milwaukee and five with the Lakers. His career lasted two decades, and it seemed like he made the playoffs year in and year out. Out of 237 playoff games played, Abdul-Jabbar boasted 24.3 points, 10.5 rebounds, 3.2 assists, and 2.4 blocks per night. Talking about sustained excellence, Kareem is that guy.
6. Tony Parker (137 wins)
Parker and Duncan fought wars together, but the Frenchman only came to the Spurs in 2003, so TD had more games than him. With that being said, Parker may arguably be the best Spur in their later championship runs and was even named the 2007 NBA Finals MVP.
7. Scottie Pippen (136 wins)
Pippen may be forever known as "Robin" to Michael Jordan's "Batman," but he was quite a playoff performer himself. In fact, Scottie had more playoff wins than MJ, mainly because he played with the Rockets and Blazers after the Bulls years. What's more, he was basically Chicago's best player when Jordan semi-retired in 1994 and 1995. All of that led to Pippen having 15 more playoff wins than His Airness.
8. Manu Ginobili (135 wins)
Ginobili was one-third of the Spurs' three-headed monster. He was probably the most creative scorer and passer in those Spurs championships teams. The Argentine took on a sixth man role for Gregg Popovich, and he flourished in the regular season or the playoffs. He averaged 14 points, 4 rebounds, and 4 assists in 218 playoff games.
9. Kobe Bryant (135 wins)
As great as Kobe was, he missed the playoffs five times in his career, but that was mainly because he was all but done after the Achilles injury in 2013. Still, Bryant has always been a top-flight performer, going to seven championships and winning five. Out of the 10 people on this list, Kobe is second in PPG behind LeBron (25.6) while adding five rebounds, five dimes, and 1.4 steals a contest.
10. Shaquille O'Neal (129 wins)
Shaq already had a taste of success in Orlando, but his Laker years are when he indeed became a man of steel. He did win one more title with Dwyane Wade but had little playoff success after bouncing from team to team. That being said, Shaq averaged 24.3 points, 11.6 rebounds, 2.7 assists, and 2.1 blocks in 216 playoff games. His playoff RPG is the highest of anyone on this list and only second behind Bill Russell.
Honorable Mentions:
Magic Johson (128 wins). Magic owns the highest APG in the playoffs with 12.3. Even though he sits outside the top 10 in total wins, he had a 67% win percentage in the postseason, higher than LeBron James, Michael Jordan, or any other player in NBA history.
Michael Jordan (119 wins). Jordan's early career involved first-round exits against the best teams in the 80s, but he dominated in the 90s. Jordan owns the highest PPG average in the playoffs (33.4) while winning at a 66% clip of his postseason games.
Has an NBA Team Ever Gone 0-82 or 82-0?
No, this has not happened before, and it likely won't ever happen. NBA teams are too good to go winless, but the long season also meant fatigue and injuries could also become a factor that even the best teams lose every now and then. 
The 2016 Warriors have the best regular-season record at 73 wins and nine losses. Previously, that record belonged to the 1996 Chicago Bulls, a team that lost only 10 games out of 82. The 1997 Bulls and the 1972 Lakers both won 69 games, while the 1967 Sixers and 1973 Celtics won 68 games apiece. Ironically, the 2016 Warriors did lose to the Cavs in the Finals.
As for the worst regular-season record of all time based on winning percentage, that belongs to the 2011-12 Charlotte Bobcats. The teams played only 66 games that season because of the lockout, with the Bobcats going 7-59.
However, the Bobcats did not own the record for most losses in the regular season. That distinction belongs to the 1973 Philadelphia 76ers with 73 defeats (nine wins). As if that's not enough, the 2016 Sixers come in second with 72 (against 10 wins). The 1993 Mavs and 1998 Nuggets finished their respective seasons with 71 losses, while the 2010 Nets and 1987 Clippers lost 70 times.
Wrapping Things Up: Has Any Team Went 16-0 in the NBA Playoffs?
NBA fans have seen dominant teams come and go. These teams often feature several All-Stars in their lineup, outstanding role players and veterans, and a premier coaching staff. You may have probably thought about Larry Bird and Magic Johnson's teams in the 80s, Michael Jordan's Chicago Bulls in the 90s, or Golden State's championship teams from 2015-18.
As far as the Lakers or the Celtics are concerned, these two teams have the best playoff records in NBA history. The Lakers won almost 60% of their playoff games, while Boston is at 57%. Both teams had 17 Larry O'Brien trophies to show for it.
But, really, has any team went 16-0 in the NBA playoffs? Nobody ever went undefeated in the postseason as great as these teams are. Two have come dangerously close, the 2001 Los Angeles Lakers (15-1) and the 2017 Golden State Warriors (16-1). The Lakers lost Game 1 of the NBA Finals because of an Allen Iverson eruption, and the Warriors lost Game 4 of the 2017 NBA Finals. Either way, they would have completed four NBA playoff sweeps on both occasions.
Did you find this interesting? If so, check out our other basketball FAQ articles here.
> Who Votes for the NBA Awards?
> Has a Rookie Ever Won MVP in the NBA?