Luka Doncic has established himself as a top 5 NBA player after four seasons in the league. He will soon have his own signature shoes under the Jordan brand, and his rookie card is worth an unbelievable sum of money. In fact, the word "unbelievable" is selling it short; it was unprecedented! How much are Luka Doncic cards worth? Read on and find out.
Why are Luka Doncic Cards So Expensive?
It's not that Luka Doncic cards are expensive per se; it's the rarity and condition of the card that matters. Include a bona fide signature from Luka himself, and a card of that nature should easily fetch six figures at the very least. 
As far as the card-collecting hobby goes, Luka's rookie cards are the hottest right now. They're directly related to his growth in the NBA and the broader sports card market. As previously stated, Luka Doncic has already established himself as a top 5 caliber talent and a perennial MVP candidate at 23. Doncic led the Mavs to the Western Conference Finals, and there's something in there that tells every basketball fan he's just starting.
How Much is a Luka Doncic Card Worth?
A Luka Doncic card could be worth anywhere from a couple of dollars (ungraded) to millions. In fact, an ultra-rare Luka Doncic rookie card sold for $4.6 million. That's not only the most expensive Luka Doncic card; it's the most expensive basketball card ever!
The card features Doncic's signature in blue ink on an NBA logo man catch from a Mavericks jersey. It was the only one of its kind made.
The Doncic card was discovered during a live pack break at the Layton Sports Card shop in Altamonte Springs, Fla., from a box of 2018-19 Panini National Treasures Basketball trading cards. Bolillo Lajan San, a collector, eventually purchased the card for allegedly $400,000, although it was never confirmed.
If he ever paid that amount for the card, it was not for naught. San sold the card for $4.6 million to collector Nick Fiorella. 
This Doncic card is not only the most expensive NBA card in history but also the second-most expensive purchase of any sports trading card ever. Only a 1952 Topps Mickey Mantle card fetched a higher price ($5.2 million). The previous record before the Mantle card was a 2009 Mike Trout rookie card that sold for $3.9 million.
If he stays on his current path, Doncic has the potential to be considered one of the all-time greats. If this is the case, the value of the Doncic card now in Fiorella's possession could still go up.
Controversy Surrounding the $4.6 Million Luka Doncic Card
If someone is willing to spend that much money on something, it sure attracts a bit of controversy. According to the report, what makes this card controversial is the long-standing claim that it was not signed by the Mavs' star. It is said that Doncic's mother engraved the signature for his son.
 

View this post on Instagram

 
A discrepancy in the way Doncic's signature slants is one of the indications that corroborate this claim. Some say the Slovenian superstar's signature does not lean as far to the right as other signed Luka Doncic cards. The Mavericks' All-Star, as predicted, declined to comment. Meanwhile, his mother stated that her son's writing had most likely changed.
How would this affect the value of the card going forward? Well, it remains to be seen. As long as Doncic would not explicitly state that it's not his signature, it could still become very valuable in the long run. Remember that the card is a One of One, meaning there is nothing like it on the planet. That alone should account for something.
7 Best Luka Doncic Rookie Cards
1. Panini 2018-19 National Treasures Rookie Logoman Patch Auto One of One
Yes, this was the most expensive basketball card ever sold. This is the one. If the description above seemed indiscernible, it means several things.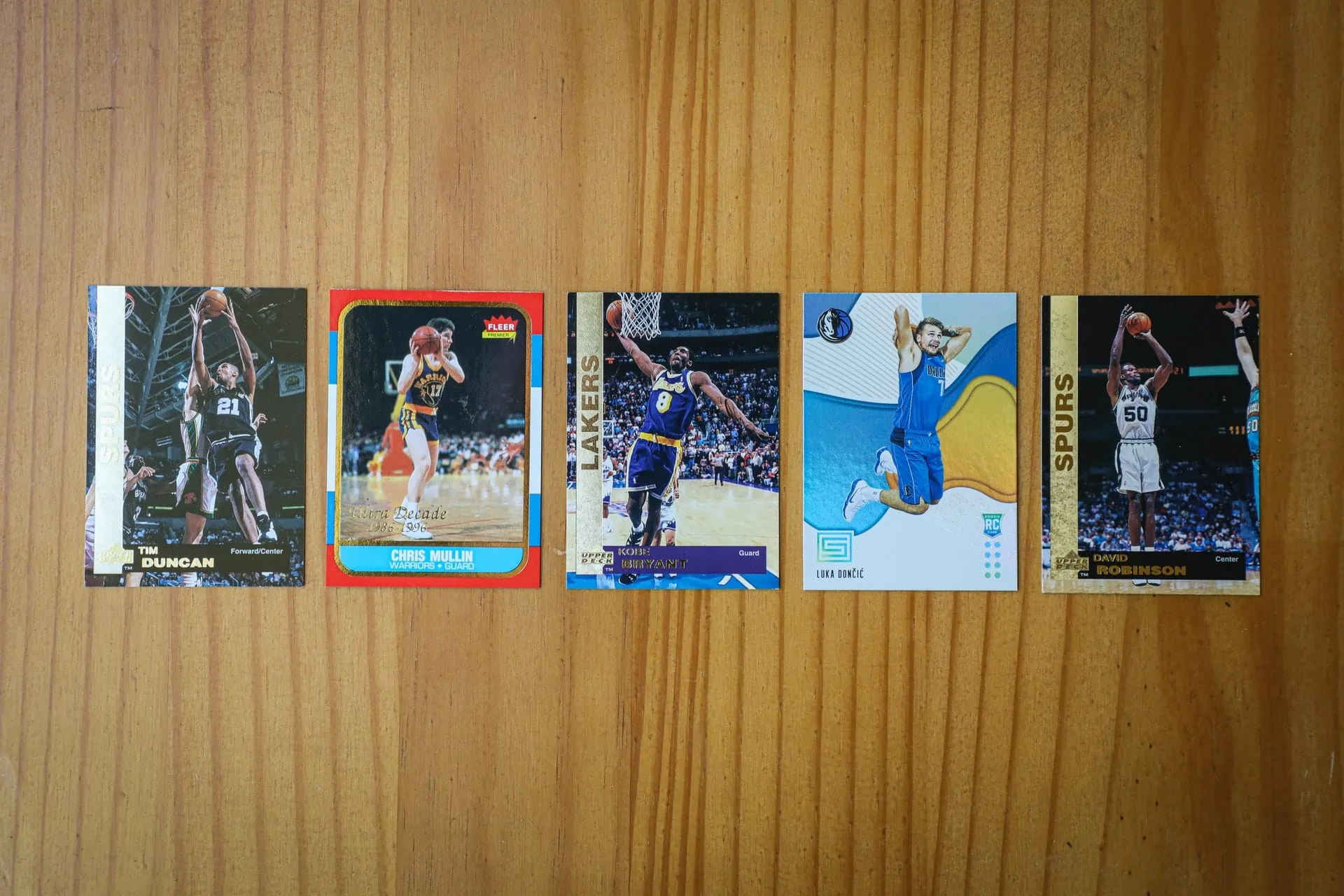 First, if you see 2018-19 National Treasures, it's the Rolls Royce of basketball trading cards. It's the All-NBA first team for card collectors. A single pack of 10 cards showcases some of the rarest cards in the collecting field. A single box at MSRP is impossible to find in the wild, but 2019/20 packs commonly trade for $4,500 or more on the resale market. For the most avid collectors, this is the pack to target.
Second, since it's a rookie card, it is the very first NBA card/s made for the Mavericks star. This is his debut, so to speak. Third, the "Auto" there means it is signed while "Logoman" means the card has a jersey patch incorporated, in this case, the NBA logo. Lastly, the One of One indicates it's the only one of its kind. 
These features combine to make this card the pinnacle of modern card collecting. Buying at this price is a risky bet, but assuming that it will continue on its current path, the value of this card may climb as well.
2. 2018-19 Panini Prizm Luka Doncic RC #280
This Luka Doncic Prizm rookie card is priced at a couple of hundred dollars, but some could sell for over $1,000. If you want a base Luka Doncic rookie card, this is the one you can realistically target.
3. 2018 Luka Doncic White Sparkle Prizm #280
Another Luka Doncic Prizm rookie card, the White Sparkle #280 is worth at least $30,000. The PSA 10, or the virtually perfect cards, may score the owner up to $47,000. 
4. 2018 Luka Doncic Prizm Red Shimmer #280
The Red Shimmer is a flashier version of the white sparkle with the same Luka photo, but for some reason, it's worth more. Way more! The latest sale on eBay netted $198,000 for a PSA10.
5. 2018 Luka Doncic Panini Court Kings #201
Well, what's more to say? The latest sale of this Luka Doncic rookie card is $5,000 but it could be as high as $20,000 for a card in mint condition.
6. 2018-19 Panini Opulence #145 Luka Doncic
The word "opulence" means great wealth or luxuriousness, which is a pretty accurate description of the card. The Panini Opulence #145 Luka Doncic may be had for a shade less than $22,500.
7. 2018-19 Panini Spectra #108 Luka Doncic RPA Neon Pink BGS 9/10 Auto 19/25
There are a lot of versions or varieties of the Spectra #108, but the Autographed RPA Neon Pink is the most expensive. One seller had one up for sale at the price of over $46,000. Some versions like the Neon Green is priced at $6,800.
Should You Invest in Luka Doncic Cards?
Anything that appreciates over time is a good investment. Therefore, Luka Doncic cards are excellent investments, especially if the Slovenian superstar continues in his upward trajectory. Still, like any other investment, you must be careful since not every Luka card is worth a ton of money. Many are just base cards that have little to no value.
If you're looking to buy a Luka Doncic card, when is the best time to buy one? The offseason is probably the best time to haggle and buy a Doncic basketball card for less. If you can time it, you may choose a time when the Mavericks (or Luka) are struggling. On the other hand, the demand tends to be higher when a player is doing well. Therefore, if you're a seller who wants to make extra money, opt for a time when Luka has just reached a milestone. For instance, it would be a perfect time to sell a Luka Doncic card if the Mavs make it to the NBA Finals or their superstar wins the MVP award.
5 Things to Know Before Investing in NBA Cards
1. Understand the hobby
Unless you have a death wish, you won't jump 20,000 feet off an airplane without a parachute. In the same way, you must not invest in NBA cards unless you know what you're getting into. 
Understanding the ebbs and flows of the hobby is critical before beginning your collection since you want to build it in a planned and intelligent manner. If you don't, you can invest in a set of cards only to find yourself yearning for a new type a month later while still exceeding your budget. Ouch!
2. Set a Budget
Investing money is not about an unlimited budget. The idea is to start with a small sum and make money. That is why setting a budget is essential because it's easier to go overboard! Before you begin, determine a budget for the amount of money you're willing to spend on cards.
3. Set Your Financial Goals
What financial goals do you have in mind when you're starting a hobby? Are you only looking to collect, or do you want a return?
Different financial objectives may necessitate different strategies. If you have some cash and want to make a long-term investment, your plan will be different than if you want to make money over the next few months.
4. Look for a player worth investing in
The trading card business is a popularity contest, which makes absolute sense. After all, a player who's not popular won't have demand and, therefore, won't increase in value. If you do not find a worthy player, no amount of work will raise the value of the player you have chosen. Specific characteristics you should look for will boost your chances of selecting a valuable player.
5. Buy Low, Sell High
That's the essence of investing, right? Buy a card selling below its market value and sell it when the demand is high. Unfortunately, there will always be moments when you sell right before the card's value skyrockets. It is nearly impossible to correctly time the market every time. Having a selling price in mind gives you some 'rules' to follow, making the decision easier.
Wrapping Things Up: How Much are Luka Doncic Cards Worth?
Collecting basketball cards is an enjoyable hobby. If you choose a famous player, it could also be highly profitable. For instance, take the Luka Doncic cards as an example. A Luka Doncic rookie card in mint condition is worth a lot.
So, how much are Luka Doncic cards worth? Well, if you have managed to take hold of the Panini 2018-19 National Treasures Luka Doncic Rookie Logoman Patch Auto One of One, your initial investment of nearly $5,000 becomes almost $5,000,000! Others are worth less, perhaps in the $1,000 to $2,000 range, but it's still a pretty hefty sum.
As a word of caution, it will not always be that way. That card is only one of its kind. But you get the gist: collecting cards to make money can be a good source of income if you manage the resources correctly. Just remember, how much are Luka Doncic cards worth? The answer: a lot!