Have you ever wondered how much the rings are worth for championship sports? Are you curious if the ring is worth the effort that it takes to get it? With this article, we will be answering the question, "how much is an NBA championship ring worth?". 
You have seen them on your favorite players' hands, and much like the sport itself, the rings have progressed with time. NBA rings tend to change depending on the team they belong to and even what it took to make the win happen. 
Likely, many of us will never get to own a championship ring, but it is nice to gawk at the exclusive item. If you're interested in learning more about the history of the ring as well as what NBA player has the most rings, all you have to do is keep reading. We have got you covered. 
What is a Championship Ring? 
If you are unfamiliar with what the ring is, dissecting, the name will give you a pretty good idea. A championship ring is just what its name implies. It is a physical ring acquired after winning a championship game. Much like a trophy, it is used to symbolize victory. However, this is mainly a tradition in sports in the North American region. Other sports may simply distribute medals or other accolades. The championship ring can also be compared to a class ring that you would purchase when graduating high school on a larger, more elaborate scale. 
These rings are offered in more places than the NBA and at a variety of sports levels. This includes sports like baseball, football, and even hockey. Winning isn't enough; in North America, they want to show that victory. Success is often equated to how many rings a person, team, or even a coach has. However, rings can be used for more than that. Instead of a certificate, participants in the All-Star Game also get a ring.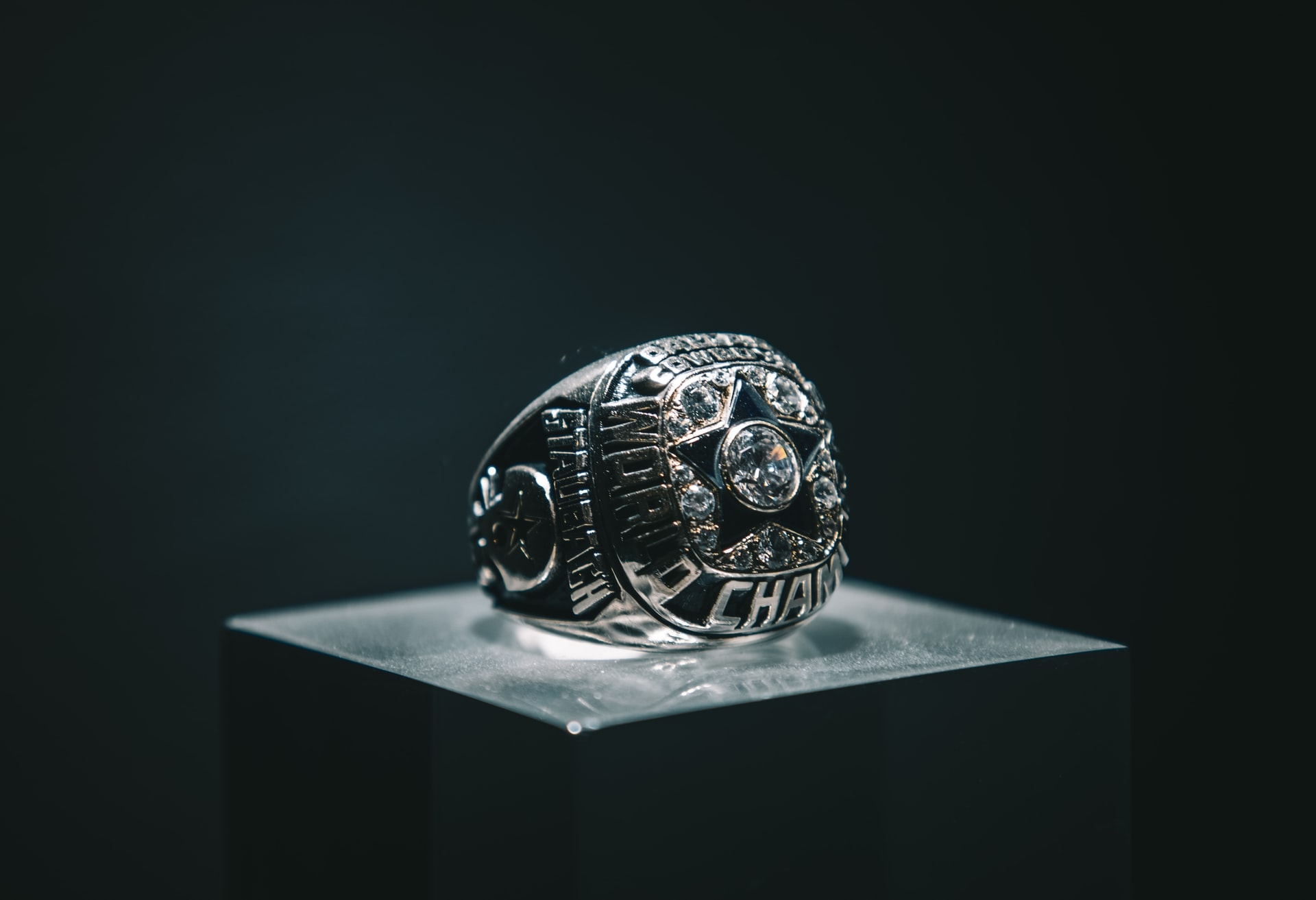 It wasn't always cool to wear a championship ring, nor were they ever given out. Though the first championship rings were given for hockey in the 1800s, the NBA finally jumped on board in 1947. It is important to remember that not all rings are created equal, and each boasts a different design and price point. The ring in 1947 is nowhere close to the design for rings that you will see today. 
What are NBA Championship Rings Usually Made of? 
NBA Championships rings are generally made of gold. This gold comes in the form of yellow or white gold. Rings will also include other materials like diamonds and several other precious stones. This is all dependent on the design which is produced. For example, the Warriors 2018 championship ring includes several sapphires as well as diamonds. 
NBA championship rings are made by many different companies. The creation of the ring often brings notoriety to the company producing it. These companies create significant designs that represent the winning team and the space that they are in historically. 
Who Gets a NBA Ring? Players, Coaches, Locker Room Staff? 
Are you an NBA employee wondering if you'll get a championship ring one day? Well, the answer to that is simple – probably not. Generally, the team has the authority to decide who will get a ring and who doesn't. Of course, all players will get a ring. However, some organizations have even extended the rings to players who were traded and even part-time staff. 
However, don't be surprised if you see any NBA player wives rocking championship rings. Players are often given the option to ask that a ring be created for their spouse. For example, Vanessa Bryant has just as many NBA rings as the late Kobe Bryant. 
Along with the actual players receiving a ring, generally, the individuals that are instrumental in the team's success will get one. These parties include coaching staff, dietary staff, and many more. In 2016 the Cleveland Cavaliers gave out more than one million dollars in rings. This included rings for players and even part-timers in the association.
Even though rings are given to multiple levels of individuals, this is not always the same ring. There are several versions of the NBA championship ring. Players will generally get the most expensive rings as they are doing most of the work. Lesser expensive versions will then be handed down to other staff members. 
Depending on the team, this will undoubtedly include individuals outside of the immediate coaching staff and players. Arena staff and even family members may also receive a championship ring. However, players who were cut from the team before the playoff games do not receive a championship ring. Yet still, exceptions can be made to this rule if a team's owners see fit. 
What's the Most Expensive NBA Championship Ring? 
The most expensive NBA championship ring belongs to the Toronto Raptors, and unfortunately, we still do not know how much it costs. The ring was awarded for the Raptors 2019 championship win. However, this was more than just a championship win for the team. This was the first time that a Canadian team won the championship. 
Since this was an important moment in basketball and Canadian history, the championship ring for this winner went above and beyond what you would typically find, so much so that they wouldn't even disclose the price point. 
If you haven't seen the ring, it is definitely worth the Google search. The ring has over 640 rocks and has broken several jewelry records. You can also imagine how massive this ring would be. This is not something that anyone will be sporting into the office or on the way to practice. This ring is a showpiece. It boasts several elements not only to represent Canada but the specific players and their history.
Starting with the top of the ring, the largest diamond represents the actual trophy received for winning the NBA championship. This is known as the Larry O'Brien trophy. This is also the Raptors' first win in NBA history. Next to it, you will find the Toronto skyline boasting the CN Tower. The word "North" in all capital letters is also etched across the front in diamonds. This is a famous slogan from the team's playoff jerseys. 
The top is also adorned by 74 diamonds for the team's number of season wins. Each player's jersey number also wraps the face with red rubies. These rubies represent Canada's color. On the sides of the ring, you will find a player's last name and jersey number; this is personalized for each player. On the opposite side of the ring, you will find the words "World Champion 2019".
 

View this post on Instagram

 
Well-known jewelry designer Jason Arasheben designed the ring. If you are a fan of popular culture, fun fact, rapper, Drake, also has a replica Toronto championship ring. Twenty thousand fans also hold a piece of Toronto's history in their hands. 
On average, a ring can cost anywhere from $15,000 to $200,000. However, in exceptional circumstances like the most expensive ring mentioned above, that can be exceeded. 
Which Basketball Player Won the Most NBA Rings? 
If you are wondering who is currently holding on to the most NBA championship rings, the answer is . He has a staggering 11 rings. These rings have all been accrued over his career. All of these were won with the Boston Celtics beginning his rookie year with the NBA. Several other Celtics players follow close behind Bill Russell for holding the most championship rings. 
 

View this post on Instagram

 

The next person on the list holding the most championship rings is Sam Jones. Jones was a teammate of Bill's and was by his side for ten of his 11 championships. The individuals following these two were also Boston Celtics teammates.
Robert Horry, a former NBA player, is the next highest, Non-Celtics, ring holder. He holds seven rings with a variety of teams. These rings even include two championship rings with the Houston Rockets, two rings with the San Antonio Spurs as well as three rings with the LA Lakers. 
Wrapping Things Up: How Much is an NBA Championship Ring Worth?
Overall, as I'm sure you can tell, no two championship rings are the same. They are not the same in design nor price point. Many aren't even the same in terms of who is creating them. Therefore, you can't expect there to be a specific price point for the championship rings to follow. 
North America is one of the few places which give athletes championship rings. Many places simply use trophies and titles as a means of justifying an athlete or team's accomplishments. However, this ring dates much further back than the first basketball game. The championship ring was first introduced in hockey and resembled a wedding band.
From then on, several other sports began to adopt the practice. As of recently, the tradition of presenting an NBA team with their championship ring is a big event. This generally happens at the first home game of the season. 
Overall, the Championship ring is a significant symbol in North American sports and one that won't die anytime soon. The price of NBA championship rings has increased over time, and depending on what team wins, its price can continue to go up. These rings are not only great championship "trophies"; they are also great ways to commemorate basketball history in a unique way. 
The Toronto Raptors championship ring can definitely be seen as a commemoration of history and a way to celebrate the first accomplishment of a long time goal. They spared no expense making sure that the event is remembered correctly. 
Did you find this interesting? If so, check out our other basketball FAQ articles here.
> How do NBA Players Get Paid?
> Has a Rookie Ever Won MVP in the NBA?