Basketball and fashion have always been intertwined. The Chuck Taylors, the staple in basketball courts in the 70s, are now primarily worn casually. Fast forward 20 years and the Jordan brand built a cult following of its own. Needless to say, anyone can wear basketball shoes on any occasion, and essentially anytime they'll feel like it. This article will answer the question "Can you wear basketball shoes casually?" and give several recommendations on some basketball shoes that you can wear every day.
Can You Wear Basketball Shoes Casually?
Generally, the direct answer to this question is a resounding yes! In fact, some of the most famous casual sneakers that every sneakerhead covets start out as basketball shoes. These are the Jordan 1s, Jordan 11s, and so forth. Even the Yeezy line of Adidas had a basketball shoe released back in 2018.
In short, basketball shoes are nothing less than impressive for daily usage. Performance basketball shoes are designed to have great cushion, and the traction of most models are excellent. If you wear basketball shoes casually, it's understandable if you switch back and forth with your pair. However, if you want to increase its lifespan, it is recommended that you have another extra pair solely for basketball. Do not use your everyday shoes for basketball if possible.
Can Basketball Shoes Be Used to the Gym?
Can you wear basketball shoes to the gym? It depends on what you do in the gym. If you're more into cardio, running 10 miles on the treadmill, and stuff, basketball sneakers are too heavy for that. But if you're into lifting weights and other bodybuilding workouts, then yes, basketball shoes can be used.
In general, bodybuilders would prefer a flat shoe with superior support around the heels and ankles. Basketball shoes would fit the bill. Many basketball shoes utilize thick midsoles for more cushion, but you may always choose something with thinner midsoles if you use them in the gym.
Another good reason to opt for basketball sneakers in the gym is the traction. The outsoles of basketball shoes are designed so players can stay planted while stopping in a dime. When benching, the shoes must allow you to stay planted to avoid injuries. Again, it wouldn't be so bad to wear shoes with maximum traction, like basketball shoes, to keep safe in a gym environment.
Can Basketball Shoes Be Used for Walking or Running?
It depends. Basketball players get up and down the court, so in a way, basketball shoes are designed for running. However, that's not always the case. Some basketball shoes may be too heavy, so they are not meant for running exclusively. The average NBA player runs three miles a game on average on pristine courts no less; in these circumstances, the extra weight matters less.
On the other hand, if you meant running as in double-digit miles per day on uneven terrain, then it better look in a different direction. In such a situation, basketball shoes are too heavy, some cuts are too high, and they're not as flexible as running shoes. You may get away with the lighter and/or lower-cut models, but if you feel any pain, then it should be a sign to stop.
How to Wear Basketball Shoes Casually
Among the popular brands of basketball sneakers, you'd find something worth using every day. Depending on your purpose., you could always go for form and style over function. And like any other fashion accessory, you should never be ashamed to stand out and be different.
Here are some tips on how to wear basketball shoes casually.
Get the right pair.

Not every pair is right for you, your taste, and your lifestyle. Is your wardrobe made up mostly of denim jeans or cargo shorts? Regardless, some styles would not go well with your outfit. The rule of thumb is that low-cut shoes will work well with any ensemble, but high-cut models are often the more daring ones. Depending on your personality, pick up the right pair for you, and half the work is done.

Go for the classics.

Chuck Taylors, Jordan 1s, and Air Forces– pick any of these classics, and you're good to go. Jordan 1s may be the most expensive out there in the retail market, so budget is always an issue. Chuck Taylors are often made out of canvas, so they're not probably the best to wear if your job is a bit on the heavy side. AF1s can literally last for years and is highly customizable, so it's always a top-notch option.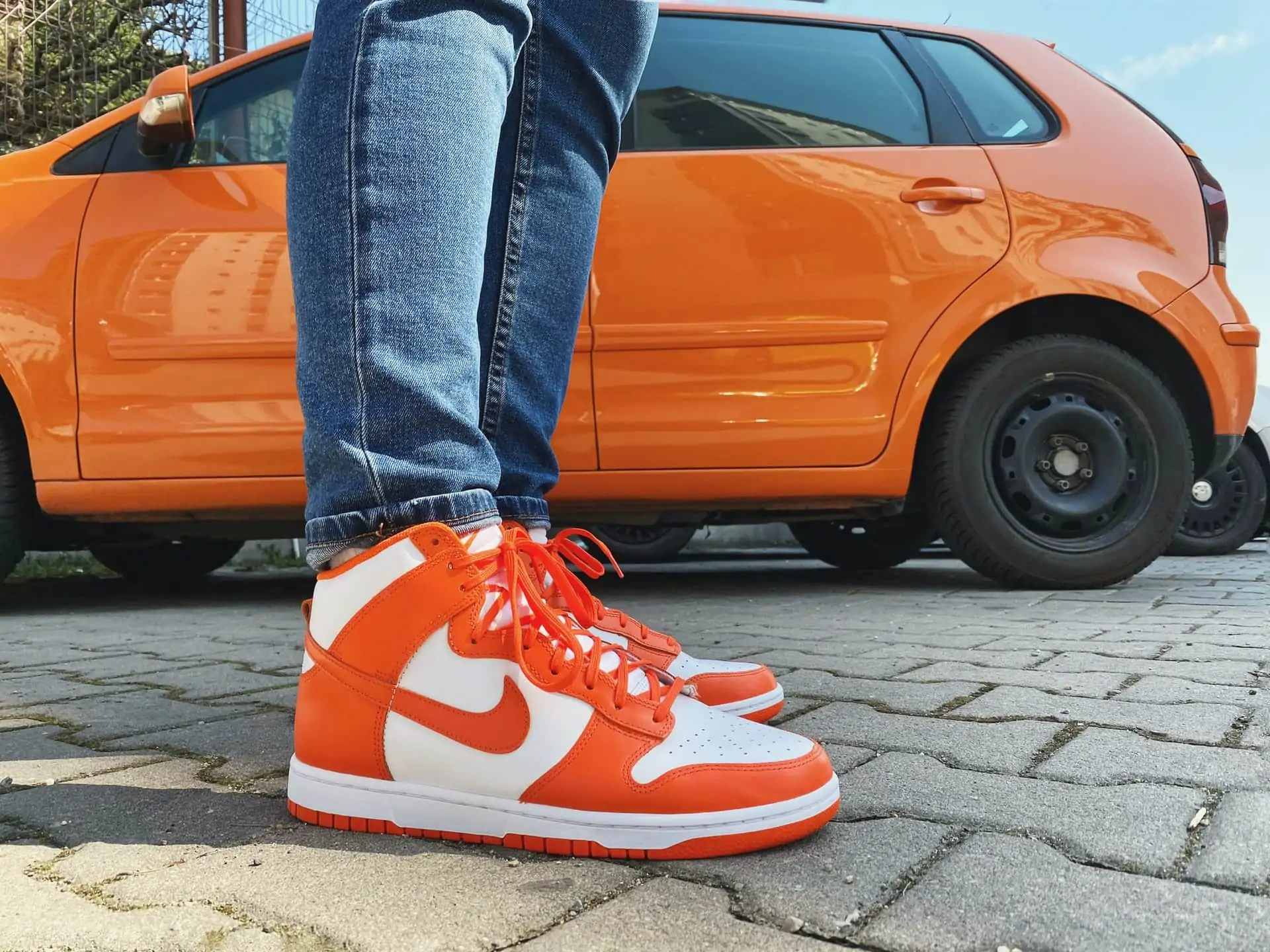 Wear plain tops.

Most flashy basketball shoes worn casually like the LeBron XVII or Foamposites are better shown off than hidden. You can help achieve that look by wearing the plainest top that you can find. And if you like funky and shocking colors like Volt or Pink, you can accentuate these further by wearing plan tops.

Go for the triple black whenever you can.

The easiest decision for casual use is the "Triple Black" colorway. You don't have to clean them often, and it goes with any type of top and pants. 

Wear what you like.

Casual wear is supposed to tell the world about you. It should also be comfortable, and therefore, you shouldn't just buy a basketball sneaker just because it's what everybody wants. If you're going to wear Fila's, just go ahead and rock it. Don't let anyone tell you otherwise.
Top 7 Basketball Shoes You Can Wear Casually
The Chuck Taylors, J1s, and AF1s are the staple of this niche. Therefore, it would be pointless to include these basketball shoes in the conversation. If anything, this portion should point you in the direction of hidden jewels that not everyone may have noticed. Here are some of the best casual wear basketball shoes you can find today:
Many people love the Kyrie Low because of its outstanding fit and support. These two are the most critical features for casual use, and the "Amarillo/Black" colorway is not so bad either. Like every low-cut model, the Nike Kyrie Low is one of the best basketball shoes to wear with jeans.
2. Reebok Solution
Reebok is part of the Allen Iverson line (The Answer and "Solution"– got it?) but it's a newly-released shoe. It is supposed to pay homage to the original AI Reebok shoes but at a very low SRP. Nevertheless, its selling point in casual wear is its retro look. Remember, the J1s and AF1s have made a fortune with their retro releases, so why not do it with the Solution?
3. Kobe AD
Many people consider the Kobe AD a disappointment in the Mamba's line. Still, if you're not going to play basketball on it, there is definitely a place for this pair in the streets. While most of its colorways are not as attractive as the Kobe 9s, it is still a stunning piece. You can always go for something predominantly black or go against the tide with a shocking colorway like the "Purple Stardust." In any case, you will indeed look good in these shoes, as expected with the Kobe line.
4. ANTA KT5 Light 
If you are still doubting whether you should include Anta or any Chinese shoes in your fleet, then this is the confirmation. The KT light, in general, is the lighter version of the KT line, and in most buyers' opinion, the KT5 light is the prettiest among the bunch. The KT2 was the most critically acclaimed, but for casual looks, the KT5 light should be up there without batting an eyelash.
This is also a retro shoe but is more well-known among the most avid sneakerheads rather than the general population. Blame it on the limited releases or the hefty price tag, there are only a few pairs that could rival the iconic status of the AJ XI and its legendary look. Again, the XI comes in low and high-cut models, but either way, you can never go wrong with any of them.
If one of the most popular shoe reviewers and influencers called it the most comfortable shoe of 2021, you have to rethink your life choices. Like any Chinese shoes, you can probably find this somewhere on sale. If you could, buy it without a second thought. The Taichi cushioning is one of the best and has a better midsole than the first model. The Underground 2 also has eyepopping colorways, which should spruce up your everyday ensemble.
The Pro Model has been one of Adidas' most iconic shoes. The German shoe company equipped the Pro Model 2G with the Bounce technology to ride the streams of time. This makes the Pro Model a combination of a solid basketball shoe and a splendid casual pair. Aside from a plethora of colorways, the Pro Model 2G comes with mid and low-cut models to fit your style and personality.
Wrapping Things Up: Can You Wear Basketball Shoes Casually?
Basketball sneakers have long been ingrained in popular culture, and their influence extends far beyond the basketball court. You may probably think of the esteemed status of Jordan 1s, Jordan XIs, Air Force 1s, and even the Chuck Taylors. These basketball shoes found their niche in lifestyle and everyday fashion.
What do we exactly mean by casual and everyday use? Well, for instance, the cushioning, support, and traction of basketball shoes make them an excellent option for gym use. Of course, you'd have better options if you're doing cardio and long-distance treadmill stuff, but for every other gym activity, you can count on basketball shoes to protect you. 
The secret to pulling off the 'basketball shoes as a casual look' is actually pretty simple. It all boils down to what you like, your personality, and some basic fashion tips and tricks. So after picking something that you like, you should just go with simple tops and pants to accentuate the kicks. 
This is especially what you should do if you like wearing vibrant colors. If you want something that will go with any outfit, a triple black or a triple white colorway is not a bad option. But then again, you should have the tissues or handkerchiefs ready if you're going with a white colorway, just in case.
As you can see, it's not about the "Can you wear basketball shoes casually?" question. It's more of what and how to wear basketball shoes casually. Basketball sneakers are proven to withstand the rigors of everyday use, but if you're doing it for a fashion statement, they should come in pretty handy just as well. At the end of the day, you can't go wrong in picking basketball sneakers as your go-to kicks for casual wear.
We hope you enjoyed this post! If you did, be sure to check out our other basketball FAQ articles here.
> How Should Basketball Shoes Fit?
> How to Add Grip to Basketball Shoes
> How to Style Basketball Jerseys?
> How to Style Basketball Shorts?