Watching a live NBA game on TV from the comfort of your own couch is a fantastic experience all by itself. Now, multiply that by a thousand and fifty, and that is how unbelievable it would be watching the world's greatest sports league in the flesh. But the question arises, how much are courtside seats for an NBA game?
For starters, every NBA team has a different price. How much are courtside tickets Lakers ask is utterly more expensive than, say, the courtside tickets for a Pistons game at Little Caesars Arena. Playoff ticket prices are also significantly higher than a regular season game. In any case, let's delve into the anatomy of courtside seats for an NBA game.
What are Courtside Seats Defined As? 
 

View this post on Instagram

 
Courtside seats are pretty much self-explanatory. You are there sitting courtside, literally a meter or so away from the baseline out-of-bounds. These seats are near a team's bench, which means you can be seated next to your favorite player! If you get lucky enough, you can interact with team members or the coaches. Needless to say, courtside seats can give you a different (and in a lot of ways, better) viewpoint on how NBA level basketball is played.
Why are Courtside Seats to NBA Games so Popular?
Aside from the fact mentioned earlier about being so close to real NBA action and its players, courtside seats for an NBA game are popular because of how rare they are!
You see, most of the teams keep many of these high-end seats private. They are reserved for the celebrities and dignitaries, and only a small number are made available to the Average Joes. It is the ultimate status symbol in American sports that is why courtside seats to NBA games are so popular.
How Many Courtside Seats are There?
You can't precisely tell since most of these seats are for VIPs, but different teams have different schemes on their courtside seat layout. Let us name a few:
The Warriors have four courtside seat sections on both sides of the basketball court. Since the seats can't be viewed in 3D, we can't estimate the number of courtside seats at the Chase Center.

The Lakers have three CRT sections on one side of the sideline, three smaller sections on the other side, and two each on both baselines. These smaller sections have around eight seats, and the bigger ones on the other side have more than 40 chairs lined up.

The Knicks have two sections of about 30 seats each on one side and two media tables on the other. They also have smaller courtside seats along the baseline.
These seats have the code VIP for a reason. Unless you're a celebrity or someone who has an inside contact from the arena, the chances are slim that you may be able to secure one of these NBA courtside seats. But hey, like what they say, the NBA is where amazing happens.
That said, NBA courtside seats prices during the regular season are substantially lower than in the playoffs or NBA Finals. 
Are NBA Tickets Expensive?
NBA tickets are expensive and some, ridiculously so. Unless you make six or seven figures a year, the prices on these tickets can be extremely steep.
On how much these seats exactly cost depends on the matchup and the venue. For example, even if the Knicks are not doing well for years now, the ticket prices remain relatively high, amounting to almost $3,000 for courtside seats. While the Pistons, the Hornets, and the Timberwolves have relatively low courtside ticket prices, they may jack them up whenever the Lakers, the Bucks, or any marquee matchup comes to town.
The Lakers may have the highest courtside seat prices at over $4,000 regardless of who they play against. They have the highest average ticket price, according to a Nov. 2019 report by Yahoo, at $475 while the Timberwolves, Hornets, and Cavaliers were all at under $70.
How Much are Courtside Seats for NBA Finals? NBA Playoffs?
 

View this post on Instagram

 
The NBA makes most of its income during the NBA playoffs. If a team gets healthy enough with a little bit of luck sprinkled from the basketball gods, the NBA Finals is where the lion's share of the dough could come from.
Now, how much exactly do these courtside seats cost in an NBA playoff game? Like the courtside seats in the regular season, prices vary according to the location. Since, on average, the playoff tickets doubled from its regular season prices, courtside tickets in the NBA playoffs could range anywhere from $500 to $10,000 depending on the arena. The bigger the brand, the higher the prices.
While the first three rounds of the NBA playoffs is practically a whole season in itself concerning the ticket prices, the NBA Finals is altogether a different beast. As recently as 2019, the average ticket to secure a seat in the Scotiabank Arena in Toronto is as much as $5,000. On the other hand, the Warriors' Oracle Arena commands an average price of almost $3,000.
How much, then, are the courtside seats for the NBA Finals? To give you an idea of how frighteningly expensive they are, here are some figures from the most recent NBA Finals tickets price:
A new per seat record has been set for the NBA Finals. A person paid $50,507.50 PER SEAT on the @warriors website for two courtside seats ($101,015 total) to Game 4. pic.twitter.com/XvW50etv8p

— Darren Rovell (@darrenrovell) June 2, 2019
VIP Courtside tickets in the 2018 NBA Finals are averaged at

$47,723

,

according to Vivid Seats

. The asking price increased from nearly $16,000 in Game 1 from over $76,000 in Game 2.

In 2017, a Warriors season ticket holder resold a pair of NBA Finals floor seats tickets that ultimately totaled to $133,000, including fees. The fee stood at $17,000, making it the most expensive NBA ticket ever.
How to Get Your Courtside NBA Tickets? 
By now, you have a pretty good idea of how astronomically expensive courtside NBA tickets can get. But here's the deal: You don't have to crash that off your bucket list completely. You simply have to know where to go.
Having said that, the only economical way to get your courtside NBA tickets is to get them in lesser-known cities or small market teams. Ticket prices for courtside seats for an NBA game happening in Staples Center or anywhere else with the Lakers in it could probably break the bank. Unless you saved money for that specific moment, it's probably best to look for cheaper alternatives.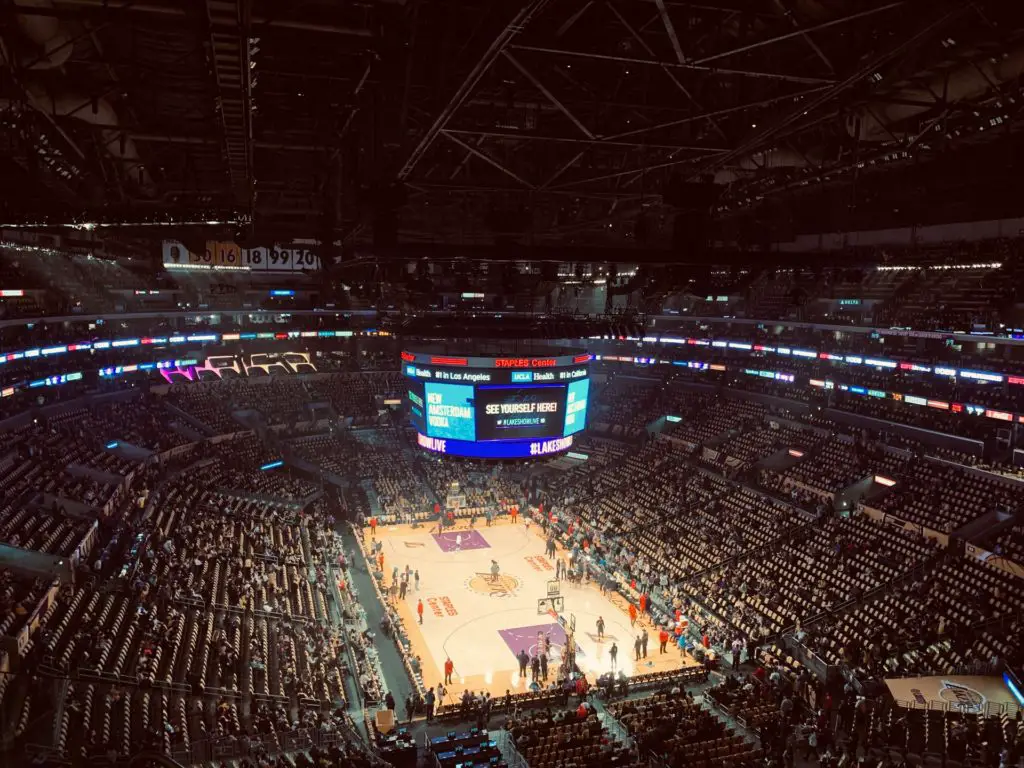 One, you can do that by directly purchasing on the NBA tickets website. Second, if that option is unavailable, third party ticketing websites can help, although their service fees can be so high you're like paying for another ticket that does not exist. Third, if you can contact someone to sell their courtside tickets before the game, you may hit the jackpot. Some season ticket holders who want to make money off these tickets often bring the prices down hours before the game since they'll be afraid to get nothing once the game starts.
With loads of cash and some insane luck, you may be able to pull this off.
What Kind of Clothes Should You Wear at an NBA Game?
There are no NBA courtside seats rules that prevent you from wearing whatever you want at an NBA game. Just look at Adam Sandler and follow accordingly.
However, you may want to use a little common sense as to what you'll wear at an NBA game. If you are attending one with your co-workers (Sometimes, an employer of a big corporation will rent out one section for employees), then you may want to dress intelligently by utilizing a corporate look. But if you're in an NBA game spending your own hard-earned money, then you wear whatever makes you feel comfortable, perhaps some nice jeans and a jersey of whatever team you're rooting for.
Wrapping Things Up: How Much are Courtside Seats for an NBA Game?
Watching an NBA game in courtside seats is a life-altering experience. It truly is! The game gets so real, and you'll have a newfound appreciation of what these guys genuinely bring to the table in terms of skill and athleticism. With that being said, how much courtside seats for an NBA game depends on a variety of factors. And most of the time, these factors are out of your control.
So what's the bottom line? If you ever get the chance to get a hold of these tickets, preferably on a price that you can afford, go ahead and get ready for the best sporting experience you'll ever have.
If you found this post interesting, then you may also like our review on the best NBA throwback jerseys and best camera for recording basketball games.
> How Much Do NBA Mascots Make on Average?