When looking for a basketball shoe, your selection boils down to high-top vs. low-top sneakers.
We'd say low tops are for shorter and faster athletes playing the guard position, and more prominent players like the power forwards and centers fit high tops.
We'll also say it does not matter, as long as you're comfortable and the basketball shoe improves your game.
Read on to learn more if high or low cuts fit you.
Does it Matter What Shoes You Wear for Basketball?
Shoes don't make players; they can wear any shoes when playing basketball. But shoes are a piece of essential equipment in any sport, it maximizes performance and reduces the risk of injury. The proper footwear will help bring out your best.
Did you know NBA players cannot wear all basketball shoes? Basketball shoes evolved, and the current brands have different designs and functions that help players perform better. The board banned some brands since the designs gave undue advantage to the players or violated the sneaker guidelines.
Athletic Propulsion Labs (APL) Concept 1 was the first shoe to be banned by the NBA in 2010 for its performance-boosting superiority.

Nike basketball shoes

– Jordan 1 was initially banned by the NBA for failure to adhere to the sneaker guidelines, and His Airness was fined $5,000 every time he wore the sneakers in an official game.

The NBA banned Air Jordan 1 in black and red for accenting too much red.
Shoes allowed by the NBA league give players the comfort and versatility to display their wares for exciting plays on the court. Players should look for these characteristics when choosing basketball shoes.
Flexibility
The soles will give you the flexibility to move and jump around quickly while playing. Wear the shoes to check the soles, walk around and jump to experience how it feels.
We see or hear NBA players suffering an anterior cruciate ligament (ACL) injury, which could take 6 to 9 months to recover. Shoes with ankle support will not completely protect you from harm, but they will keep your ankle from breaking. 
Steph Curry had to undergo ankle strain treatments because he often turns his ankles in unorthodox crazy ways.
Lacing
Untied laces hamper a player's movement and can cause severe injuries from tripping. There are basketball shoes designed to keep the laces unexposed or without laces.
The Right Size
Shoes are essential in playing basketball. The right size will give comfort in running up and down the court. An unfit shoe is a discomfort hindering a player's movement and in executing motions as usual as they should be.
Cushion
Cushioning will absorb the impact of a player's motions. It offers comfort and makes you feel light as a feather while playing. Shoes without the right amount of cushioning cause discomfort leading to poor execution of plays and poor scores.
Stability
Stability makes players confident in their actions knowing that shoes have a good grip on their feet. Innovative shoes keep players from slipping on the floor and from injuries.
How Do High Tops and Low Tops Basketball Shoes Differ?
Injury prevention should be your number one concern when playing. Basketball is a contact sport and a high-paced game. A player's shoes give ample support and soften the impact on the feet, toes, ankles, and joints. An athlete can choose between low-top vs. high-top basketball shoes.
With the right shoes it will be easier for you to take your game to the next level.
High-top Basketball Shoes
The high-top basketball shoes have collars encasing the ankle, giving stability and support. The latest models are designed to decrease stress on the ankles, knees, and lower back.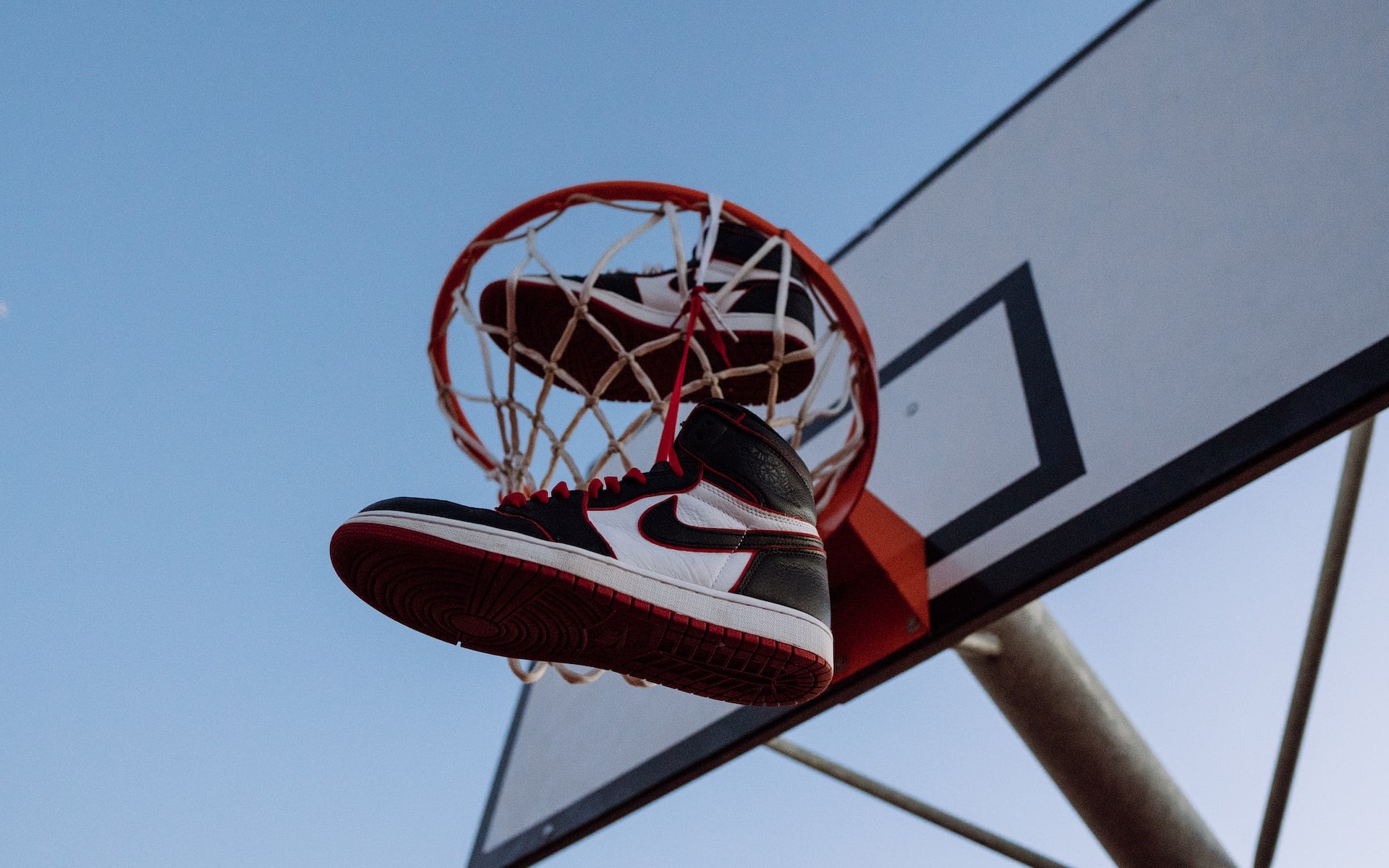 The features of high-top basketball shoes have limitations and cushions suited for big players. They are heavy shoes restricting movements but provide feet and ankle protection to post-up players like the centers and forwards.
Charles "Chuck" Taylor designed Converse All Stars, which became the official shoe of the Olympics from 1936 to 1968. During World War II, the U.S. armed forces adopted Converse All-Stars as their official training shoe.
Pros and Cons
| | |
| --- | --- |
| Pros | Cons |
| Ankle lock-in offers excellent ankle support. | Restrictive. |
| Soft cushioning is good for absorbing the impact from jumps. | Heavy construction and ankle collar make movements difficult. |
| Padding is made from thick fabric for protection against injury. | Less flexible. |
| Firm with outstanding durability. | Reduce response time. |
| | Small market selection |
Low-top Basketball Shoes
Low-top basketball shoes don't have long collars and leave the ankles exposed. Low-top is tailored for guards since there are minimal restrictions. It is lightweight and allows quick and sharp movements from smaller basketball players like the point and shooting guards. These guys are busy with their feet doing lots of running, hustling, and cutting. 
In 2007, Kobe Bryant, an avid soccer fan, thought of passing some functionality of the traditional low-top soccer boots to basketball shoes. Kobe was right; players like James Harden, Damian Lillard, and Paul George were wearing low tops soon enough. Kobe presented his idea to Nike and was approved on the same day leading to the following line of Kobe's signature shoe – KOBE IV.
Pros and Cons
| | |
| --- | --- |
| Pros | Cons |
| Lightweight allows quick movement and change of speed. | The ankle and knee have minimal protection from the impact when jumping. |
| Versatile, without foot limitations for good foot movement. | No ankle lock-in; the risk of injury is high. |
| Players have more control. | Less durable because of loose, soft materials and padding. |
| Wide selection. | |
| Excellent breathability because of reduced padding and material. | |
What's the Science Behind Basketball Shoes?
Basketball shoes evolved from the one-model Converse All-Star of yesteryears to the contemporary Nike Air Jordans, and others offer more selection. While the style makes a shoe beautiful to make a fashion statement, basketball shoe design varies for other reasons. The basketball shoe function is the foremost concern, and other technological developments follow.
In the basketball footwear industry, engineering research is vital to improve the sneaker's performance and to provide users the support and comfort they need while playing.
Engineering Athletic Functionality
Businesses pour considerable money into the research and development of basketball shoes. Shoe investigators employ motion-capture systems, sensors, cameras, and other equipment to focus on a basketball player's movement.
X-rays were used to evaluate shoes' impact when the ankle rotates inward while players make a sharp turn. The study assists developers in understanding the attributes of traction, the sole's firmness, the heel's level, and sturdiness in sideway movements. Consequently, companies provide light, comfortable shoes, give cushion support, and allow the feet's natural movement.
Basketball is a game that involves a lot of physicalities that include jumping, running, side-to-side, landing, etc. The truth's hard to fit all those characteristics into the design of one basketball shoe.
What did Science Say?
Basketball designers use the data from research on players' court motions to create shoes that improve a player's performance. Here are some scientific studies about basketball shoes.
Basketball shoe height and the muscular resistance applied to ankle moments
Abstract
Tests involve 20 young adult men with no ankle injuries. Subjects performed ankle strength testing using a specially designed apparatus. They forced their ankle to turn upside down (inversion) and turned outward (eversion) at 0 and 16 degrees of plantar ankle bending (flexion). Half of the subjects wore the low-top shoe, and the other half wore the high-top shoe.
Result
High-top shoes increased resistance to an inversion moment by 29.4% at 0 degrees and improved to 20.4% at 16 degrees. This show that the high-top shoe had more excellent resistance to bending than the low-top shoe. Shoe height does not affect the eversion moment at any angle.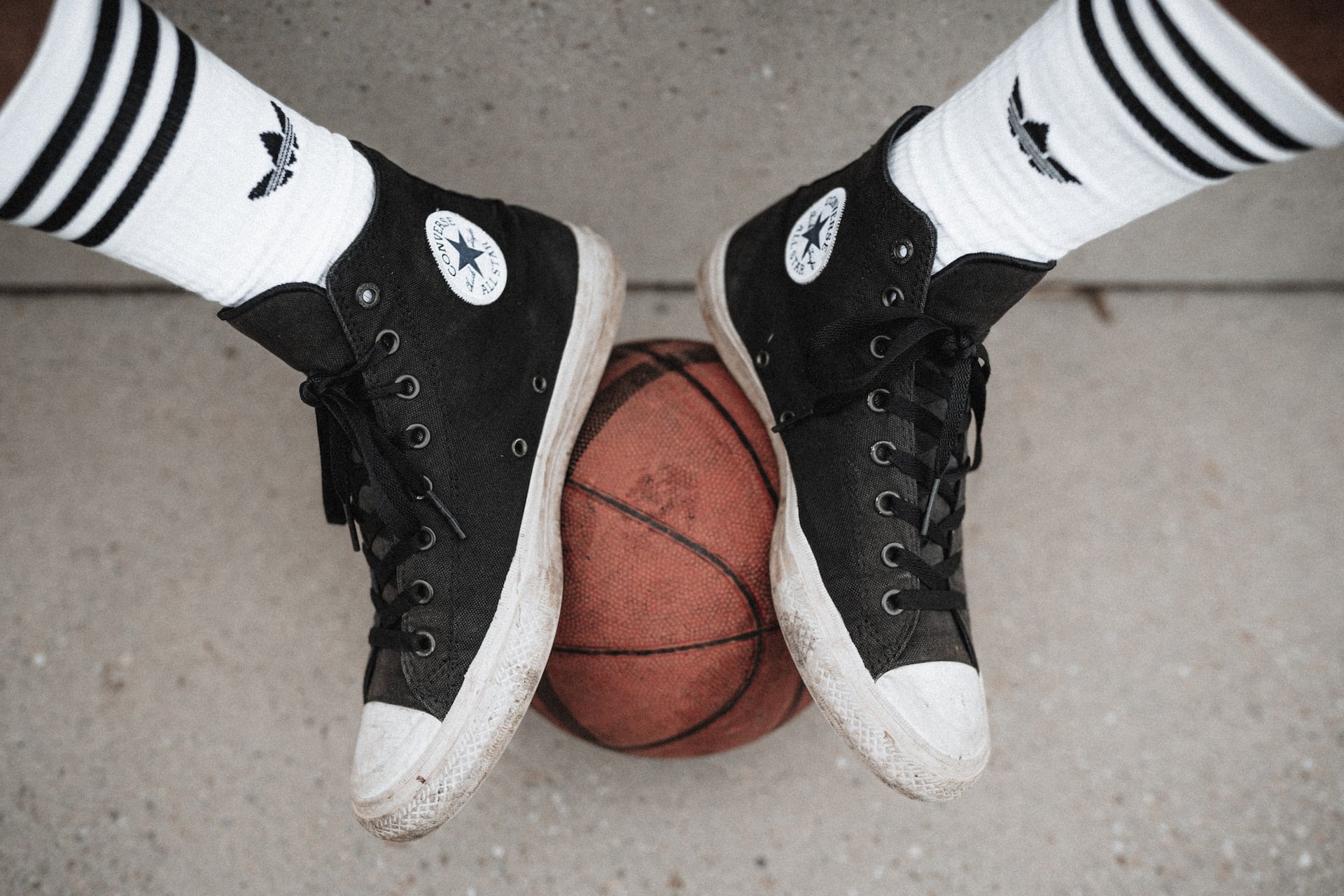 Shoe collar height effect on athletic performance
Abstract
The study examined how shoe height affects ankle movement when cutting. Fifteen male university basketball players executed side-step cutting with maximum effort using different shoe heights, low and high top.
Result
There was less ankle rotation when using high-top shoes, meaning less ankle injury risk—no significant decline in time and performance for those wearing high-top shoes.
What Type of Shoes Do Most NBA Players Wear?
The bubble bursting marked the NBA's 76the season and business as usual for the league. The number of regular games was 82 from 72 two seasons back, and the world of basketball sneakers has never looked so good.
We'll look at some shoe basketball statistics in the NBA's 2021-22 regular season.
Shoe Facts
Rookies had a hard time inking deals with sneaker companies. Only a quarter of the 52 rookies or 13 new NBA players had shoe contracts, and the rest had to wear their favorite sneakers when playing.
Montrezl Harell of the Charlotte Hornets is dubbed as the Sneaker King with the most changed sneakers, slipping into 52 different basketball shoes. Chicago Bulls' Javonte Green is at second with 21 replacements and coming in at third is DeAndre' Bembry from the Milwaukee Bucks, changed 20 times.
Kobe's widow Vanessa Bryant did not renew the contract with Nike, stopping the release of new shoes under the Kobe line. Collectors sought the Kobe 5 Protro and Kobe 6 Protro making the shoes pricey and hard to come by. 
5 Most Popular Shoes by Players Choice
NBA players had 315 models of basketball shoes to choose from during the 2021-22 regular season. An improvement from last season's 283 different sneakers.  
It was a close call at the top; Nike PG 5 sneaked past Nike Kobe 6 by a single point for the most popular basketball shoes. P.G. 5, chosen 1885 times, is neck-to-neck with Nike Kobe 6, selected 1884 times, and at third is Nike Kobe 5 laced by players 1,418 times.
| | | |
| --- | --- | --- |
| Rank | Model | Player's Choice |
| 1 | Nike PG 5 | 1885 |
| 2 | Nike Kobe 6 | 1884 |
| 3 | Nike Kobe 5 | 1418 |
| 4 | Nike Air Zoom G.T. Cut | 1405 |
| 5 | Nike Kyrie 7 | 1284 |
5 Most Popular Shoes by Guards
| | | |
| --- | --- | --- |
| Rank | Model | Player's Choice |
| 1 | Nike Kobe 6 | 1063 |
| 2 | Nike Air Zoom G.T. Cut | 976 |
| 3 | Nike Kyrie 7 | 809 |
| 4 | Nike PG 5 | 761 |
| 5 | Nike Kobe 5 | 723 |
5 Most Popular Shoes by Forwards
| | | |
| --- | --- | --- |
| Rank | Model | Player's Choice |
| 1 | Nike PG 5 | 1163 |
| 2 | Nike Kobe 6 | 1050 |
| 3 | Nike KD 14 | 860 |
| 4 | Nike Kobe 5 | 719 |
| 5 | Nike Kyrie Low 4 | 695 |
5 Most Popular Shoes by Centers
| | | |
| --- | --- | --- |
| Rank | Model | Player's Choice |
| 1 | Nike PG 5 | 524 |
| 2 | Nike Kobe 6 | 290 |
| 3 | Nike Kobe 5 | 255 |
| 4 | Adidas Dame 7 EXTPLY | 224 |
| 5 | Nike Zoom Freak 3 | 219 |
Are Low- or High-Top Shoes Better for Basketball?
The basketball shoe is vital equipment in playing the sport. Choosing the right one can improve your game and protect you from the risk of injury.
Before deciding on a shoe, evaluate yourself; these questions will help your selection.
Are you a long-range shooter or a post-up player?

Does your game showcase the razzle-dazzle movements?

Do you rely on power and aggression?

Do you crash the board and a terror on defense?

Do you drop back and take advantage of transition plays?

Are you often after the ball?
Realizing your playing ability will help you find your desired features easily. Ill-equipped footwear poses a problem that no athlete wants.
Wrapping Things Up: Low Top vs. High Top Basketball Shoes: Which is Right for You?
Basketball shoes do not make a player, but a player makes a shoe. That's why most of Nike's basketball shoes are named after great players like Michael Jordan, LeBron James, Steph Curry, etc.
Understanding your skills and playing style are the keys to finding the right basketball shoes, either high- or low-top, to lace up.
We hope you enjoyed this post! If you did, be sure to check out our other basketball FAQ articles here.