Basketball's popularity has grown so much over the years that games are now played in stadiums worth nine figures. That's a far cry from basketball arenas in the 50s to 70s. The stadiums today are colossal, and the fans give them unique electric energy that couldn't be felt anywhere. Of course, the larger the stadium is the more electricity jolts through the place. What are the largest basketball stadiums in the NBA, college, and the world? Take a quick tour and find out for yourself.
What's the Average Capacity of a Basketball Stadium?
There are probably hundreds of thousands of basketball stadiums globally, so there is no possible way to take the average capacity of all these arenas. The NBA, though, is another story. NBA arenas have a specific number of seats, so data is readily available.
For starters, the NBA has 30 teams and 29 arenas. The Clippers and Lakers share Staples Center, now called Crypto.com arena. Owner Steve Ballmer is currently building Intuit Dome at Inglewood, and the Clippers will move there in a few years.
For the longest time, the arena with the largest seating capacity was the United Center in Chicago. It has a total capacity of 20,197 seats. The smallest stadium is the Smoothie King Center in New Orleans, with a 16,867-person seating capacity. That's a difference of over 3,300 seats or just a tad below 20%. The average stadium capacity of an NBA arena is 18,966.
But that's about to change with lots of new arenas being built. The Miami Heat's FTX Arena has a capacity of 23,500. That makes it one of the largest NBA stadiums of today.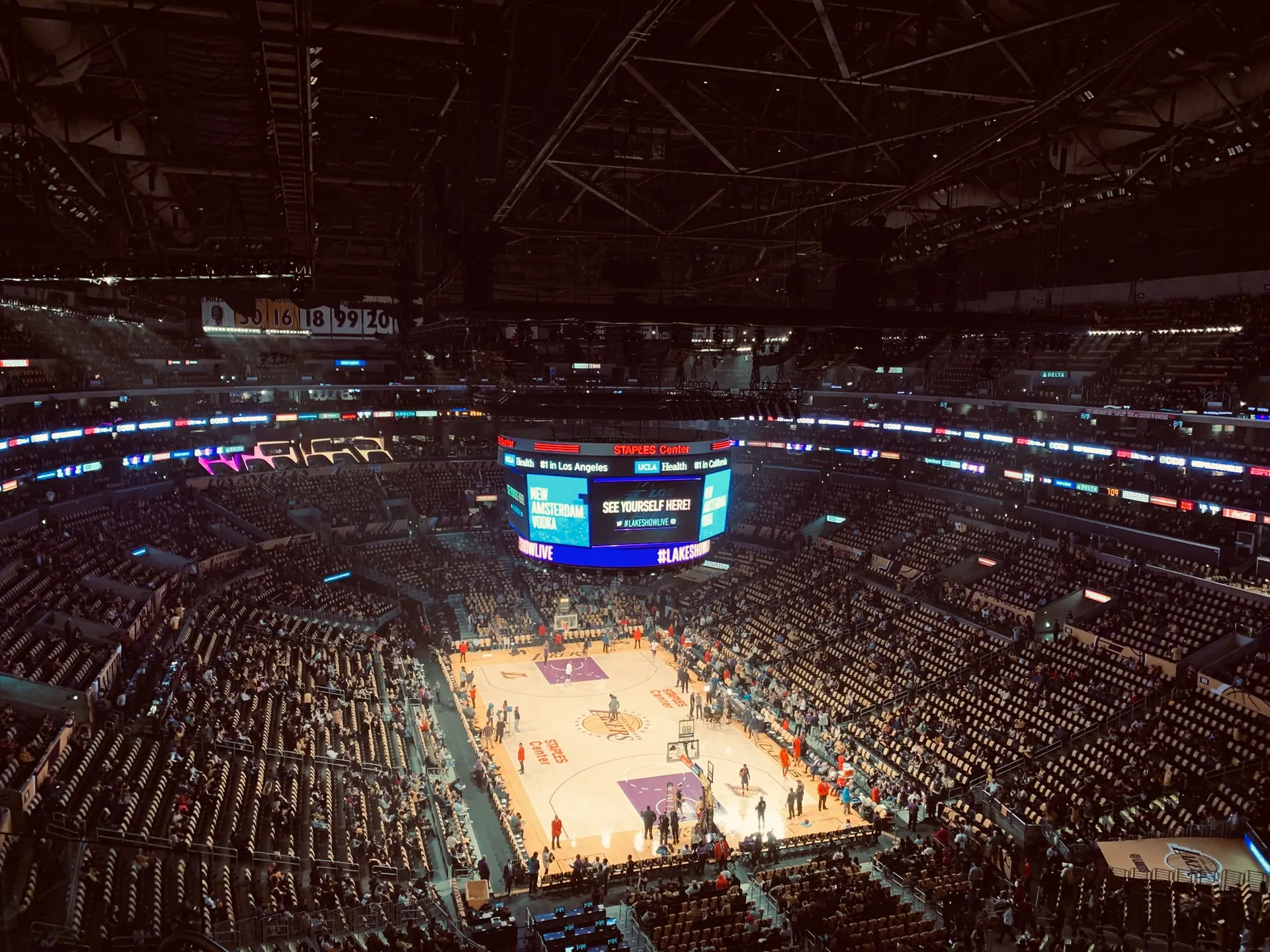 What about college basketball? The Big Ten leads by a narrow margin in terms of the average capacity of power conference arenas. The average capacity of a Big Ten arena is 14,916 seats, with the SEC coming in second at 14,624 seats. The Big East can accommodate 13,711 seating people, the ACC has 13,655, the Big 12 has 13,337, and the Pac-12 has 11,609.
15 Largest NBA Arenas Ranked by Capacity
What are the biggest NBA stadiums? Here are 15 NBA arenas ranked by seat capacity:
| | | |
| --- | --- | --- |
| NBA Arena | Location | Capacity |
| 1. United Center (Chicago Bulls) | Chicago, Illinois | 20, 917 |
| 2. FTX Arena (Miami Heat) | Miami, Florida | 21,000 |
| 3. Wells Fargo Center (Philadelphia 76ers) | Philadelphia, Pennsylvania | 20,478 |
| 4. Capital One Arena (Washington Wizards) | Washington DC, United States | 20,356 |
| 5. Little Caesar's Arena (Detroit Pistons) | Detroit, Michigan | 20,332 |
| 6. Madison Square Garden (New York Knicks) | New York City, New York | 19,812 |
| 7. Scotiabank Arena (Toronto Raptors) | Toronto, Ontario, Canada | 19,800 |
| 8. Oakland Arena (Golden State Warriors) | Oakland, Warriors | 19,596 |
| 9. Rocket Mortgage Fieldhouse (Cleveland Cavaliers) | Cleveland, Ohio | 19, 432 |
| 10. Moda Garden (Portland Trail Blazers) | Portland, Oregon | 19,393 |
| 11. Target Center (Minnesota Timberwolves) | Minneapolis, Minnesota | 19,356 |
| 12. American Airlines Center (Dallas Mavericks) | Dallas, Texas | 19,200 |
| 13. Ball Arena (Denver Nuggets) | Denver, Colorado | 19,099 |
| 14. Spectrum Center (Charlotte Hornets) | Charlotte, North Carolina | 19,079 |
| 15. Crypto.com Arena (Los Angeles Lakers & Los Angeles Clippers) | Los Angeles, California | 19,079 |
15 Biggest College Basketball Stadiums
Based on the seating capacity listed by each institution, these are the 15 largest college basketball arenas in the country:
| | | |
| --- | --- | --- |
| College Basketball Arena | Location | Capacity |
| 1. JMA Wireless Dome (Syracuse) | Syracuse, New York | 34,616 |
| 2. Thompson-Boling Arena (Tennessee) | Knoxville, Tennessee | 24,535 |
| 3. KFC Yum! Center (Louisville) | Louisville, Kentucky | 22,090 |
| 4. Savvis Center (St. Louis) | St. Louis, Missouri | 22,000 |
| 5. Dean Smith Center (North Carolina) | Chapel Hill, North Carolina | 21,750 |
| 6.Rupp Arena (Kentucky) | Lexington, Kentucky | 20,545 |
| 7. Capital One Arena (Georgetown) | Washington DC | 20,356 |
| 8. Meadowlands Arena (Seton Hall) | East Rutherford, New Jersey | 20,029 |
| 9. Madison Square Garden (St. John's) | New York City, New York | 19,812 |
| 10. PNC Arena (North Carolina State) | Raleigh, North Carolina | 19,722 |
| 11. Wells Fargo Arena (Villanova) | Philadelphia, Pennsylvania | 19,500 |
| 12. Bud Walton Arena (Arkansas) | Fayetteville, Arkansas | 19,200 |
| 13. Schottenstein Center (Ohio State) | Columbus, Ohio | 18,809 |
| 14. Bradley Center (Marquette) | Milwaukee, Wisconsin | 18,717 |
| 15. FedEx Forum (Memphis) | Memphis, Tennesse | 18,119 |

5 Largest Basketball Stadiums in the World
When a basketball stadium is among the biggest of its kind, it must boast impressive architecture apart from its size. Here are some of the largest basketball stadiums in the world:
1. Philippine Arena (Philippines)
The Philippines is a basketball-crazed country that hosts Asia's first professional basketball league. You'd be hard-pressed to find a Filipino that doesn't like basketball, no matter the age. That is why it's only fitting that the biggest basketball stadium in the world can be found here. The Philippine Arena has an indoor capacity of 55,000 and is built on a plot of land with an area of over 1,000,000 square feet.
2. JMA Wireless Dome (NY, United States)
JMA was previously known as the Carrier Dome and is home to the Syracuse Orangemen of the NCAA. The arena's maximum capacity during a basketball game is 35,642 (vs. Duke in 2019), but it has a seating capacity of 49,250. It's known as the largest domed arena in the Northeastern United States and the world. 
3. Araneta Coliseum (Philippines)
This is another basketball stadium located in the Philippines, the third-largest in the world. It also has quite a historical significance, having hosted the 1975 "Thrilla in Manila' boxing event between Muhammad Ali and Joe Frazier. The Araneta Coliseum can seat 25,000 fans, and the largest basketball attendance recorded in it was a college basketball game between the NU Bulldogs and FEU Tamaraws back in 2014. That game saw 25,138 cheering fans, a phenomenon never seen again in Philippine basketball history.
4. Stark Arena (Serbia)
Basketball is also huge in Serbia, and its national team has always been one of the best in Europe. The floor area of the arena is almost 500,000 square feet and can hold over 24,000 spectators. 
5. Greensboro Coliseum Complex (Greensboro, NC)
Greensboro may not be home to any NCAA or NBA team, but it has a long and rich history. It was the base of the Carolina Cougars in the ABA back in the 70s and hosted 12 NCAA Tournament games. The Hornets' G-League team called Greensboro home until 2016-17, and the Complex hosted an NBA preseason game between Charlotte and Boston in 2016.
7 Facts About NBA Arenas
1. The Madison Square Garden is the oldest NBA arena. It has been hosting NBA games since 1968 for the New York Knicks. The next is Target Center of the Minnesota Timberwolves, but MSG beats it out by a good two decades.
2. Aside from the distinction as the NBA's oldest arena, MSG is also the most expensive to build to the tune of $1.1 billion. That's because it recently underwent an $850 million renovation which bumped the total cost up.
3. Barclays Arena costs the most in terms of initial construction. The stadium took $1 billion to build back in 2012.
4. The oldest arena to still be of use is the Oakland Arena. It was opened back in 1966 and was used to be known as the Oracle Arena.
5. The most expensive ticket in the NBA is, you guessed it, at the Madison Square Garden. A group of four pays a little less than $1000 for these tickets, not to mention the food and drinks you consume.
6. The average price of Game 1 NBA Finals in 2022 is $1,759. A courtside seat at Oakland Arena is around $40,000.
7. The Warriors offer the most expensive tickets on average in the 2022 NBA playoffs. They charge an average of $956, followed by the Suns ($676) and Celtics ($646). The cheapest average ticket price was the Wolves' with $282.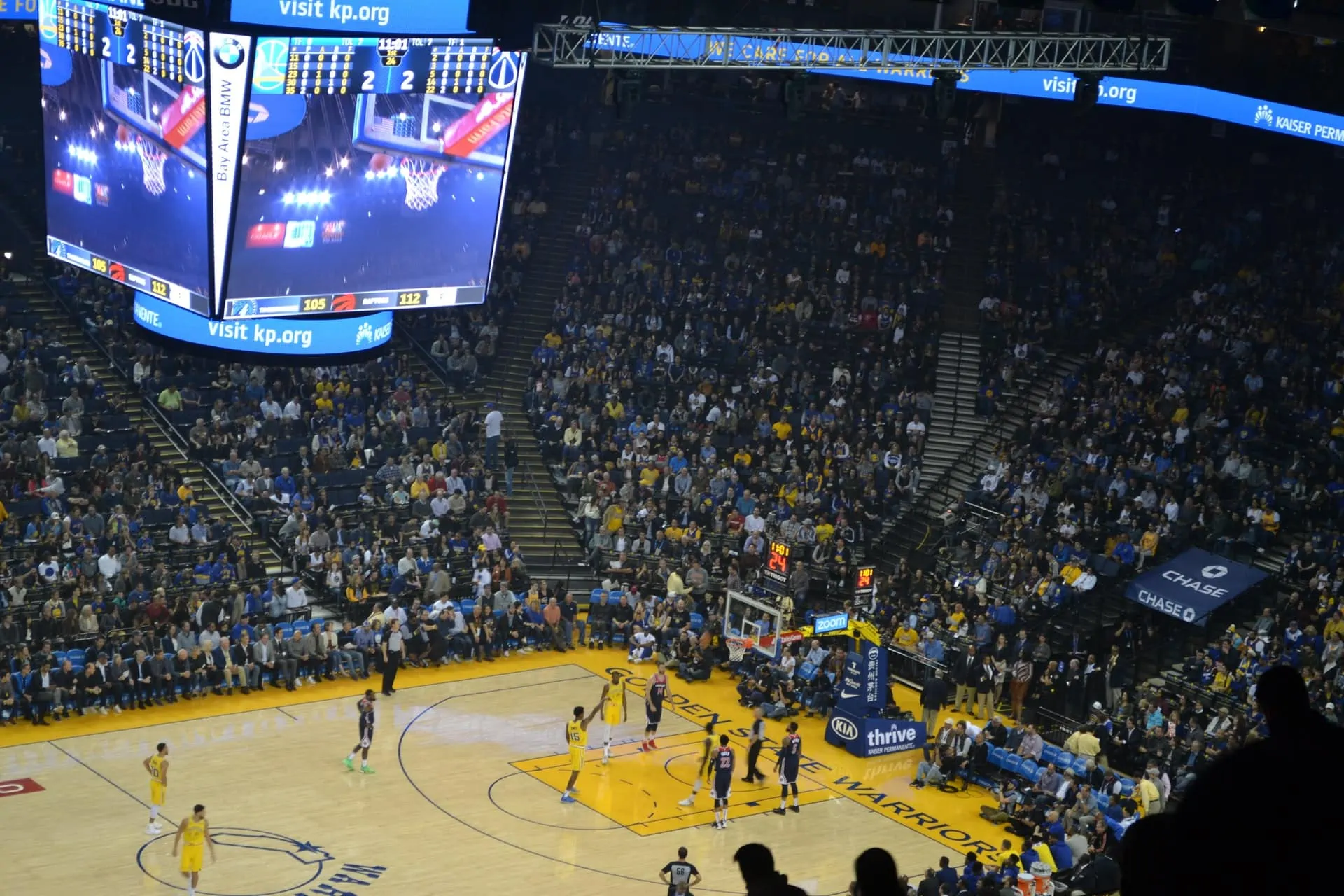 What are the Most Popular NBA Arenas?
It's only safe to assume that the most popular teams have the most famous arenas. The Los Angeles Lakers, Boston Celtics, and the Golden State Warriors always have a huge following, and their home stadiums are some of the most well-known among NBA fans. However, there is a reason why the Madison Square Garden is called the "Mecca of Basketball." Its rich history is forever etched, not only in the NBA but in all of sports. 
Wrapping Things Up: Largest Basketball Stadiums
Basketball's popularity has led to the building of some of the biggest indoor structures in sports. The largest NBA stadiums can accommodate north of 19,000 to a little over 20,000 people on any given night. Meanwhile, college basketball stadiums are even bigger, with Syracuse's JMA Wireless stadium holding over 34,000 people.
Even with such great attendance and seating capacities, two of the largest basketball stadiums are actually in the Philippines. The Southeast Asian archipelago has the Philippine Arena and the Araneta Coliseum, with the former having a 55,000-seat capacity and the latter topping at 25,000. Rounding out the top 5 are Serbia's Stark Arena and North Carolina's Greensboro Complex.