Harvard is home to five U.S. presidents, and students are known for their academic excellence than athletic prowess.
When you think of Harvard, basketball or any sport comes last to your mind. This is short of saying that Harvard can't produce basketeers that can play in top leagues like the NBA.
FYI four NBA players who graduated from Harvard and left their mark in the game with their excellent play. Most notable is Jeremy Lin who played for the Knicks and was the man behind the word "Linsanity."
This material delves into Harvard and Ivy League guys in the NBA.
How Many NBA Players Graduated from Harvard?
Fame and fortune get in the way of players finishing college. Only a few get their college diploma. But some NBA greats went back to college to earn a degree to add to their resumes, like Michael Jordan, Jimmy Butler, Shaquille O' Neal, and Steph Curry.
Athletes are not offered scholarships at Harvard and the other Ivy League schools. Harvard is known for their excellent educational system with a yearly admission ratio of 5%, not for its athletic prowess. Only a handful of NBA players that went to Harvard played in the league but impacted the game.
Jeremy Lin
| | | |
| --- | --- | --- |
| Season | Team | Games Played |
| 2018-19 | Atlanta Hawks | 51 |
| 2018-19 | Toronto Raptors | 23 |
| 2016-18 | Brooklyn Nets | 37 |
| 2015-16 | Charlotte Hornets | 78 |
| 2014-15 | Los Angeles Lakers | 74 |
| 2012-14 | Houston Rockets | 153 |
| 2011-12 | New York Knicks | 35 |
| 2010-11 | Golden State Warriors | 29 |
| | TOTAL | 480 |
Jeremy Shu-How Lin was the most famous NBA player out of Harvard. Lin is the first player of Taiwanese descent to join the ranks of the NBA and one of the rare breeds of Asian Americans who displayed incredible skills wearing a jersey. The former NBA star spent his childhood years in San Franciso Bay Area.
Lin was an outstanding high school student with a GPA of 4.2 and was awarded Basketball Player of the Year in his senior year. His high school academic achievement met Harvard's strict requirements, which Lin attended from 2006 to 2010. Assistant coach Bill Holden noticed Lin's basketball savvy and recruited him to the school's team. Lin was a three-time all-conference player donning the Harvard jersey and earned an Economics degree with honors with a 3.1 GPA.
In 2010, Lin joined the Golden State Warriors and was waived by the Warriors and the Rockets.
The New York Knicks signed him in early 2011, and he was rarely used. Things changed in 2012 when coach Mike D'Antoni included Lin in the starting rotation alongside Carmelo Anthony, Amare Stoudemire, Tyson Chandler, and Landry Fields. Lin's crazy performance of 136 points in five career starts created the viral word "Linsanity." His exceptional game led the Knicks to 10 wins in 13 games and brought the team to the 2012 playoffs.
Lin won a championship playing for the Toronto Raptors in the 2019 season. After the win, he left the NBA, played for the Beijing Ducks in the Chinese Basketball Association, and was an All-Star.
Ed Smith
Edward Bernard Smith was a 1951 Harvard graduate. 
Smith was the Knicks' sixth choice in the first round of the NBA's 1951 rookie draft. However, his debut was on hold for two years since the army recruited him. His first professional appearance was in the NBA's 1953-54 season, and he averaged over two points, two rebounds, and less than one assist in 12 games played. A left-hand fracture haunted his playing career. Smith did not make the Knicks' cut in the following season and never played again.
Wyndol Gray
Wyndol Woodrow Gray was a 1946 Harvard alum and led the Crimson to their NCAA debut.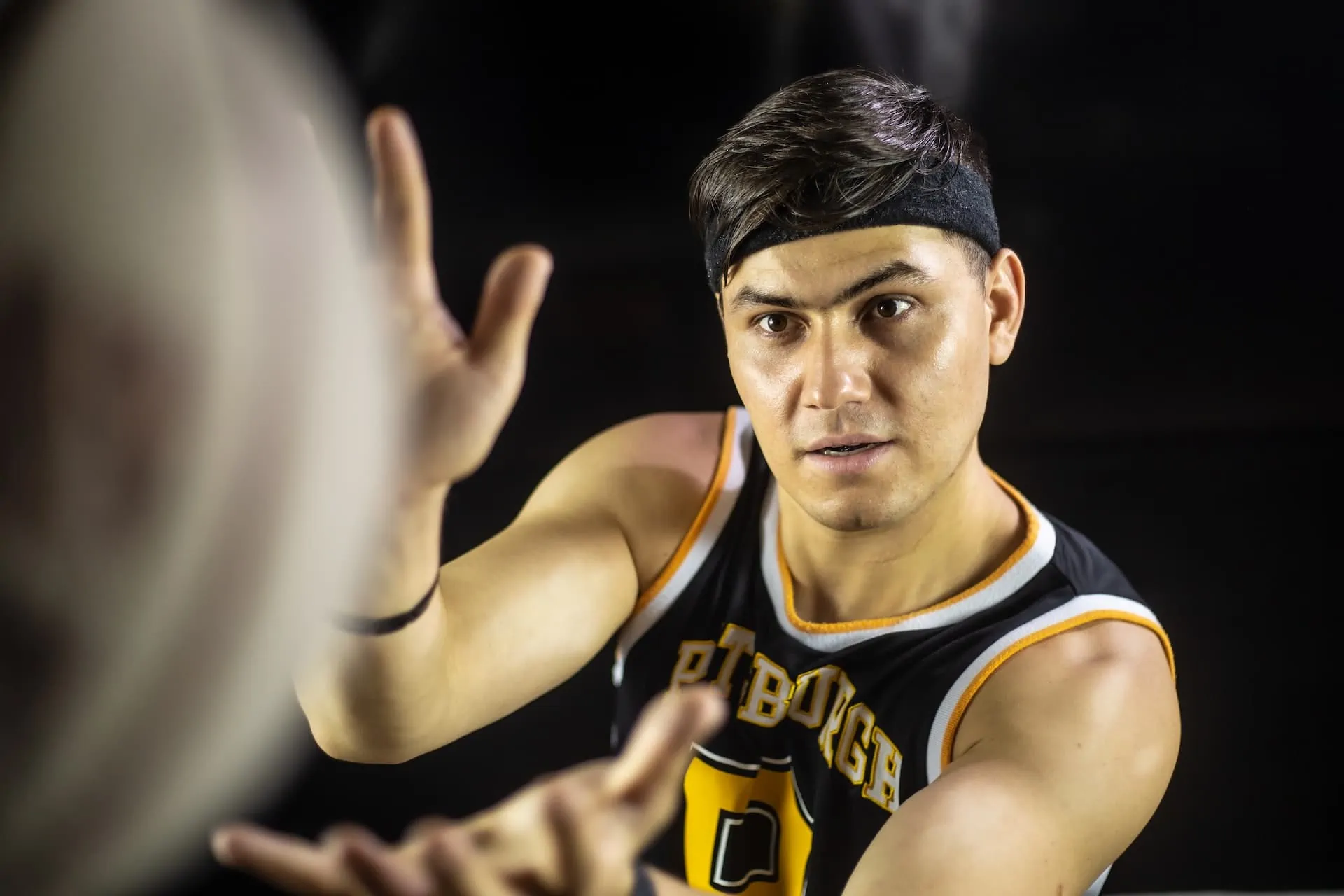 After his college career, Gray was recruited by the first Boston Celtics team under coach Honey Russel in the Basketball Association of America (BAA) 1946-47 season. Gray was the third most productive player on the team, with 6.5 points per game, playing for 55 out of 60 games. He was traded to the St. Louis Bombers in the next season averaging 1.2 points per game in 11 games. In the 1947-48 season, Gray was traded to the Providence Steamrollers, playing one game before he hung his jersey.
Saul Mariaschin
Saul George Mariaschin played for Syracuse for one season (1942-43) before joining the navy during World War II. 
After his stint with the navy, Mariaschin enrolled for two years with the Crimson, leading the school to the first NCAA appearance in 1946 with a 19-1 record. It was the only time Harvard made the quarterfinals; 66 years later, in 2012, the Crimson ballers went to the second round.
In 1947, Mariaschin was signed by the Boston Celtics to play in the BAA, averaging 7.7 points in 43 games.
Drafted Harvard Graduates Who Did Not Play in the NBA
It's every basketeer's dream to play in the NBA; for some Harvard graduates, it came into fruition; other drafted Harvard graduates made an about turn before stepping onto the playing court and pursuing their passion.
Let us look at some of these guys.
George Hauptfuhrer
George Jost Hauptfuhrer, Jr. was a third pick by the Boston Celtics in the i948 BAA drafted but preferred  a career as a lawyer.
Glenn Fine
The San Antonio Spurs chose Glenn Alan Fine as their tenth pick in the 1979 NBA draft but opted for an Oxford University Scholarship.
Fine was a former Inspector General (IG) of the U.S. Department of Justice (DOJ). Before his appointment, Fine was the special counsel to the DOJ Inspector General.

Dale Dover
In the NBA 1979 draft, Dale Dover was the ninth pick of the Boston Celtics in round 10. 
After spending a month in the Boston training camp, Dover found professional basketball, not to his liking. Dover shifted to a coaching job and guided an obscure Portuguese team to a national championship.
Other NBA Players Who Went to Ivy League Schools
The Ivy League is an American collegiate athletic conference composed of eight private universities. Ivy League goes beyond sports competition; it connotes top schools with a reputation for solid academic excellence, selective student acceptance, and social elitism.
The members are:
Brown University

Columbia University

Cornell University

Dartmouth College 

Harvard University 

University of Pennsylvania 

Princeton University

Yale University
The Ivies focus more on classroom training than sports programs. Despite that, many NBA players from Ivy League schools carved a name for themselves in the world of basketball and have shown that life offers more after basketball.
Bill Bradley
William Warren Bradley, or Bill Bradley in basketball circles, is a 1965 Princeton graduate. Bradley was drafted by New York Knicks in the same year and played over 742 games with the team until his retirement in 1977.
Bradley averaged 12.1 points per game, was a 1964 Olympic gold medalist, inducted into the Hall of Fame in 1983, a two-peat (1971-73) NBA champion, and a one-time All-Star.
After his retirement, he turned to politics and was elected a senator in 1978. Bradley served three six year-terms as a senator and made a run for the U.S. presidency in 1999 but lost the nomination to Vice-President Al Gore.
Geoff Petrie
Geoffrey Michael Petrie earned his diploma at Princeton university in 1970. Petrie was the eighth pick in the first round by the Portland Trail Blazers in the 1970 rookie draft.
Petrie scored two-51 point games and held the Blazers' scoring record until Damon Stoudamire made 54 in 2005. Petrie was co-named Rookie of the Year with Dave Cowens of the Boston Celtics. He was traded to the Atlanta Hawks in the 1975-76 season, but Petrie could not play a single game due to a career-ending knee injury.
Petrie worked for the private sector after his forced retirement. He received the NBA Executive of the Year Award twice as president. In 1985 he went back to the Blazers as a radio commentator and worked to be the senior vice president for operations. In 1994, the Sacramento Kings assigned Petrie as president for basketball operations until season 2012-13.
Wrapping Things Up: NBA Players that Went to Harvard
Fame and fortune are athletes' rewards for playing in the NBA during their prime. What happens when their basketball career is over?
Only one LeBron James didn't have to worry about finances when he hung his jersey, even without a college diploma. The four NBA players who graduated from Harvard led a life full of opportunities after they retired from the league.
Players are good during their prime; past it, net worth declines. Ivy League graduates can look forward to favorable possibilities after retirement.
We hope you enjoyed this post! If you did, be sure to check out our other basketball FAQ articles here.